Dunfermline Athletic 1
Raith Rovers 0
Author: Alistair Campbell Date: Wednesday, 2nd Jan 2013

This game had been long anticipated in Dunfermline, as much for providing the chance to generate cash-flow as for the opportunity to put one over their old rivals. In the end only one goal separated the sides on the field of play – Andy Geggan's first for the club with 20 minutes of the game remaining meant the Pars can start the new year off the way they hope to continue – and there was a decent crowd there to witness it.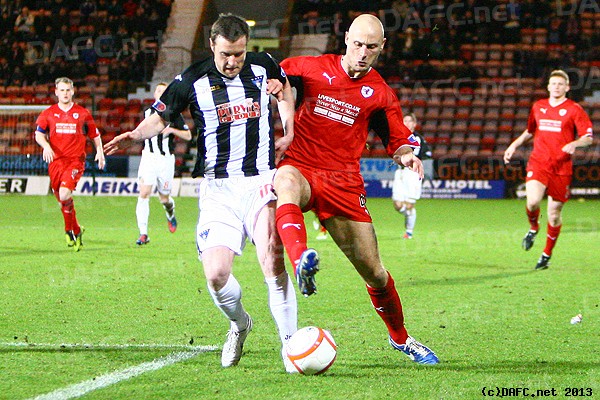 After I confidently predicted that Jim Jeffries would go with experience for this one, before freshening things up for the Dumbarton game, the manager made 3 changes – recalling Kirk for Barrowman, Cardle for Dargo and handing a first start to the highly promising Shaun Byrne in place of Stephen Husband. The formation would be the same though – Gallacher in goals behind a back four of Geggan, Dowie, Morris and Jordan, a midfield quartet of Cardle (on the left), Thomson, Falkingham and Byrne, and a strikeforce of Wallace and Kirk. Barrowman, Dargo and Husband retained their squad places, with Potter and Hrivnak making up the permitted 5 from which 3 substitutes could be drawn.

As for Rovers, there weren't quite so many people with Pars connections on show as usual – Jason Thomson was at right-back, Pat Clarke was on the bench, and of course assistant manager Paul Smith would be stalking the technical area. Manager Murray resisted the temptation to have a go, and instead followed the recipe of many bosses who visit East End Park, starting with one forward (the prolific Brian Graham) and packing the midfield, with Joe Hamill in a holding role alongside Allan Walker.


The wee team support.
Rovers in their red change strips kicked off defending the Cowdenbeath end, which housed about 1,300 of their fans, who had a better view of the early action. Thomson sent Kirk away in the 2nd minute, but he didn't trust himself to outpace Hill and so he turned back and was soon crowded out. Andy hasn't started many games this season, and perhaps a little rustiness showed when he failed to anticipate Wallace's flick a minute later. At the other end, Rovers showed when pumping a high ball into the box after a mystery free-kick was awarded – Spence got clear and Gallacher saved, but the offside flag was up in any case.

Kirk had another half-chance when Jordan knocked a free-kick sideways to Dowie, who chipped beyond the back post, but the Northern Irishman seemed in two minds and could only divert the ball into the side-netting. We then got our first sighting of Byrne who skipped past Walker before tumbling at the edge of the box, to Walker's fury. Jordan hit the free-kick over.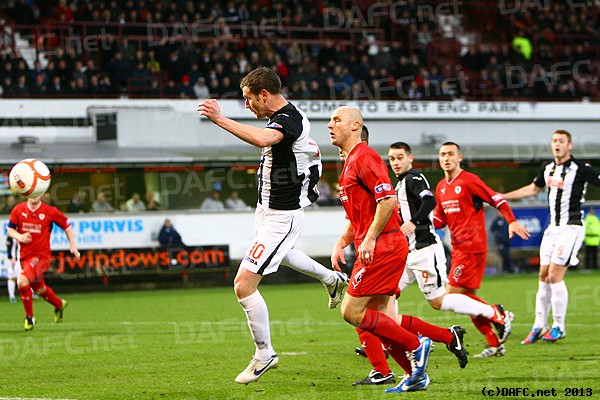 Andy Kirk attacks.
Laidlaw had still not had to make a save yet, but Gallacher was called into action 10 minutes, dealing with an under-pressure Falkingham pass-back by launching the ball into Halbeath Road. Two minutes later and he had to produce a proper save, clutching Graham's header under the bar as the forward out-jumped Morris to get his head to Anderson's cross from the right.

We were soon onto our third match ball, when Jordan's clearance disappeared into the toilets in the North West stand, a spectator retrieving it only for his attempted half-volleyed return to crash off the roof and land squarely at his feet. Things weren't much better on the park, Thomson tripping over his own feet when in a threatening position, but Byrne's showed better balance on more than one occasion, even after getting the game's first booking after a clash with Spence, winning another free-kick which this time Wallace took, blasting off the wall for a corner. Falkingham has retained his duties from the quadrants, and he found Morris who had evaded his marker, but the centre-back couldn't make it two goals in two games, as he headed over.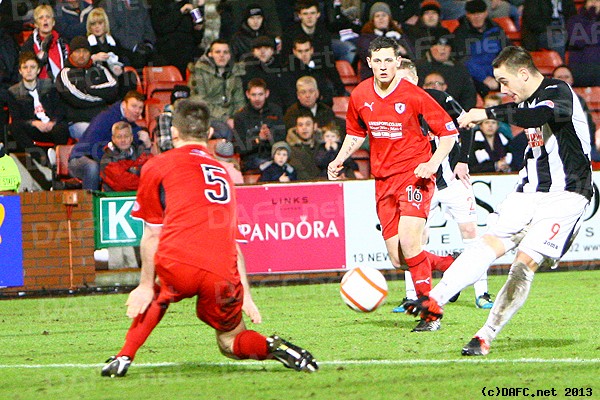 Ryan Wallace strikes on goal.
The Pars were on top, and any difficulties were of their own making, Jordan running the ball over his own bye-line to concede a corner, but with 11 men back, that was defended. At the other end the Pars came closer still – a burst of pace on the left saw Wallace hit the byeline and although his cutback eluded the keeper, Hill stooped to head behind. Then a high ball down the right was won by Geggan, and Kirk should have done better than get the ball tangled in his feet.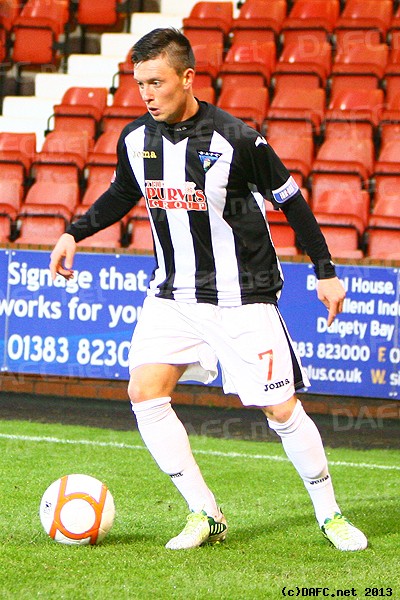 Joe Cardle.
Still the Pars hadn't actually worked the keeper – and with Rovers a known threat from dead balls, there were concerns when first Jordan then Cardle giving away fouls in their own half, but even after conceding a corner in time added on to time added on, the defence held firm. Goalless at the break then, with the Pars ahead on points in a game that had never quite ignited.

Half time: Pars 0 Rovers 0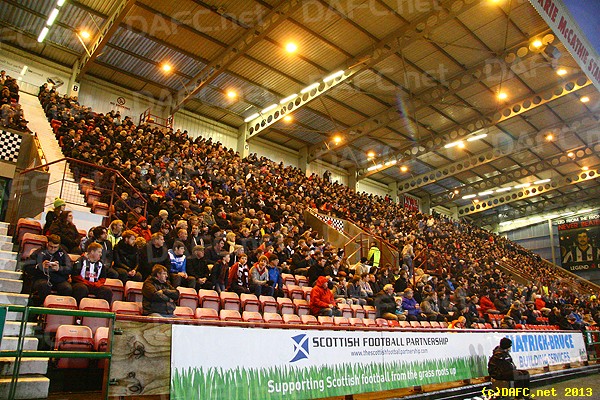 Pars support in the Norrie McCathie Stand.




The Pars picked up the pace in the early stages of the second period – a measured ball down the line from Falkingham set Wallace free, but his cut-back from the bye-line bisected the runs of Cardle who had gone near post, and Kirk, before Morris and Geggan combined to set up Wallace with a shooting chance of his own, but his shot flashed past Laidlaw's right hand upright.

After this promising start, the game became scrappy – the Pars defence seemingly losing concentration as they failed to pick up Anderson's diagonal run behind the defence in 53 minutes, before Jordan decided to follow and block at his right hand post. Hill had a highly ambitious shot from his own half after Gallacher had had to come from his goal to clear an awkwardly bouncing ball, but his shot had too much height and the Pars keeper had no bother pouching the skier by his penalty spot.




views: 4,827