Dunfermline Athletic 1 - 1 BK Häcken
Author: Stephen Taylor Date: Thursday, 16th Aug 2007

A great European night at East End Park saw the Pars play some of their best football of the season so far but they are still error prone allowing BV Hacken to get a vital equalising away goal. But it`s not over yet, just half time.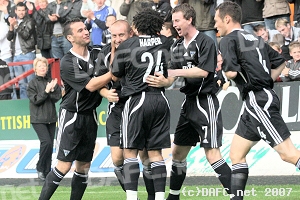 There was a great atmosphere at East End Park as just over 6000 fans got right behind the team from the outset. Perhaps not surprisingly Stephen Kenny sent out a very experienced line up. Roddy McKenzie in goals with Shield at right back, Wilson and Bamba in the middle and Scott Thomson at left back. In midfield, Simmons and Young in the centre with Glass on the left and Harper on the right. Jim Hamilton and Mark Burchill were given responsibility for scoring.

Despite shooting towards the home fans in the first half the Pars started well and incredibly took an early lead in the first minute. From a corner the ball bounces high and Bamba heads towards the goal hitting the underside of the bar and Jim Hamilton bundles the loose ball over the line.

McKenzie made a good save but almost screws up as a poor passback panics him and his clearance is hit at a Hacken forward but Williams shoots wide. McKenzie made a simply diving save on the edge of his 6 yard area but injured himself and Keny was forced to make an early substitution with Sean Murdoch replacing him after only 5 minutes.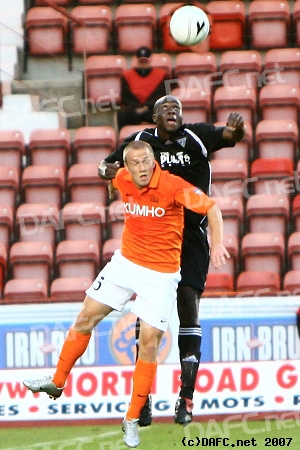 Souleymane Bamba v Daniel Larsson.
An early feature were some very good set plays by the Pars and a Glass free kick in 10 minutes just missed Bamba`s head. Bamba was already shining in the Pars defence making some good tackles. Harper was looking lively on the right wing. in 20 minutes Bamba made a clean tackle inside the Pars penalty area to break up another Hacken attack.
Wilson and Thomson allow Williams a free header which goes over the bar in 21 minutes. Another free kick in 25 minutes by Glass resulted in a corner for the Pars.

Murdoch had settled into the game and made a good save cutting out a low shot/cross in 27 minutes. Shields was struggling against the pacy Skulason but it was Bamba to the rescue again.

Murdoch also made a good save from a swerving shot in 29 minutes. A good combination with Harper and Shields saw a good cross missed by the forwards. Simmons then got onto the end of a Harper cross but headed wide.

Thomson goes down injured in 40 minutes and there is a fairly long delay to get him up on his feet resulting in 4 minutes added time. Half time 1-0.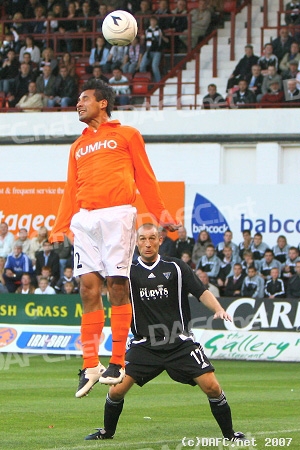 Jim Hamilton v Johan Lind.
Thomson failed to come back out and was replaced by Scott Morrison. A free kick by Wilson allows Burchill to head at the keeper. Darren Young was fouled in 49 minutes by Periera who was booked. The Pars then hit the post from a free kick. Young then set up Burchill with a great chance as th estriker was clean through but for some reason decided to pull the ball back allowing three defenders to catch him but he manages to slip the ball to Simmons and his shot was just over. He really should have closed in on the keeper.

European football does tend to throw up odd refereeing decisions and in 54 minutes Shields was cautioned for taking too long to take a throw in. Mind you the referee was probably right as the Pars struggled to take throw ins all night.

Then disaster in 55 minutes as Murdoch is caught out of position and a long ball bounces over him as he could only get a finger to it and Heriksson easily rolled the ball into the empty net. It was a real shame for the young keeper who had been playing well.

Burchill was booked for complaining about not getting a penalty in 59 minutes. Shields then mamanged to give the ball away and was lucky that Hacken did not take full advantage. Murdoch then made another good save from a quick break as their quick forwards were giving the Pars defence a hard time.

Darren Young was booked for a foul in 69 minutes which was deserved.

Harper was showing in spells what he can do with some good wing play and he put another good cross in 74 minutes. Simmons was replaced by Owen Morrison as Stephen Kenny tried to change things.

In 88 minutes Bamba came close with low powerful drive that slipped past the post after good work by Harper. The Pars kept pressing but could not create a clear opportunity. Final score 1-1.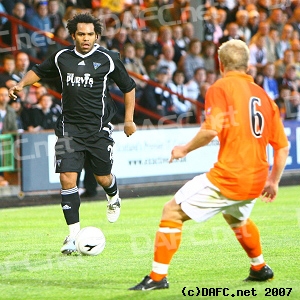 Kevin Harper v David Marek.
The overwhelming impression at full time is that it is in reality, only half time. It was disappointing to lose a goal in the way they did but Hacken always looked very sharp going forward, Their defence was less impressive and there is no reason why the Pars should not score in the away tie in Gothenburg.

There were spells in the game especially in the first half when the Pars played some good stuff. Harper did well on the right wing but does fade from games from time to time. He did win quite a few high balls which was encouraging. Jim Hamilton also had one of his best games for the Pars but he also faded in the second half.
Related Stories


views: 8,093