Dunfermline Athletic 2 - 0 Airdrie United
Author: Alistair Campbell Date: Saturday, 6th Mar 2010

It wasn't pretty to watch, and it won't last long in the memory, but a win is a win – the Pars' first 2-0 win since August...over Airdrie.


With double-digit temperatures and snowdrops and crocuses poking their heads above ground, it finally felt like spring was in the air. Perhaps things are beginning to blossom on the park as well, as it's been a long time since we won a league game at home, and nearly as long since we kept a clean sheet.

Neil McGregor hadn't recovered from last week's knock, and there was no sign of either Greg Ross or Ross Campbell; Andy Dowie was back, as was Muirhead, and despite morning press reports listing him as being both definitely out and unlikely to be risked, Steven McDougall was back in the squad.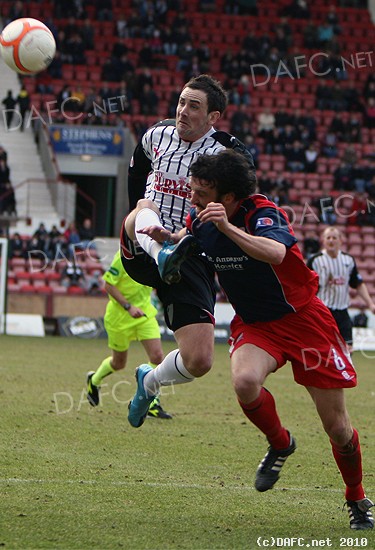 Graham gets away with a high foot




Woods moved to right back, Dowie and Higgins occupied the centre-back berths and captain McCann the left back position. There were 5 in mid-field, at least to begin with – Mason as the holding player, Burke and Bell just in front, Graham right, Cardle left, and now regular internationalist (substitute) Kirk as the lone striker. Fleming was in goals, with Paterson the back-up. Phinn dropped to the bench alongside Gibson and the recalled Muirhead and McDougall.

There wasn't a lot of Pars interest in the Airdrie team, having pinched two of their better players, but Baird and Gemmill promised to be lively in their efforts to support front-man O'Carroll.



Airdrie kicked off and within 13 seconds had a corner as Austin McCann was forced to stop Gemmill getting on a long ball over the top. That was defended but there was an anxious moment 4 minutes later. Dowie took the ball for a Beckenbauer-type stroll from defence, lost it and as he scarpered back O'Carroll had a pop from 25 yards. Fleming looked to have it covered, but a late bobble nearly saw the ball bounce over the diving keeper; however Greg got enough on it to send it round the post.

The Pars hit back with a Cardle corner, Kirk coming off his marker but heading over the bar from 12 yards, but chances were few and far between. The defence seemed a little uncertain to begin with, and in 15 minutes Bell found himself at centre-half, heading clear, although only as far as Baird, who skipped past a couple of challenges, not to mention a lunge, but Woods had tracked him and blocked his shot when a goal seemed likely.



Macca made a tactical switch, Bell being moved out of harm's way to the right with Graham taking up a more central role. Although the Pars were dominating in terms of possession, they were not particularly threatening; the game was a bit stop-start, partly due to the frequency of the referee's whistle, partly due to the uneven pitch making quick passing difficult. Airdrie seemed happy to hit on the break, although the Pars were also at their most dangerous when they didn't have 10 men to get past. A poor Dowie clearance in 26 minutes was picked up by Kirk deep in his own half and he hit the ball long, Graham outsprinting Storey but dragging his shot from the D past the right hand upright.



With the score 7-0 against in terms of free-kicks, the Pars finally won their first in 28 minutes, Kirk slamming it against the wall, the same player doing well to get in a shot from a Bell knock-down shortly after Fleming had been tested by O'Carroll. There hadn't been much to get excited about, although Kirk and Woods combined near the corner flag in 41 minutes, Woods sending in a low cross that eluded everyone other than Cardle whose drive whistled past the post with Robertson rooted to the spot.

Half time: Pars 0 Diamonds 0



No changes at the break, and despite Dowie misjudging the lack of bounce to make a meal of a headed pass to Higgins, the game continued to be as dull as the first 45. But not for much longer. A bout of handbags in the middle of the park involving Graham, Smyth and one or two others (notably Cardle) after Smyth had had several goes, most of them illegal, at stopping the Dunfermline player saw both principal protagonists booked. Then two minutes later the Pars won a penalty. Cardle tackled Smyth as he tried to clear, the ball spinning backwards into the box. It looked the keeper's ball all the way, and indeed Robertson collected it, but Bell had made up a lot of ground, and tumbled over Baird. It looked soft, but the ref pointed to the spot, waved a card in the general direction of Baird, and with Robertson diving left, Kirk stuck the ball 3 yards inside the other post. 1-0 Pars.





views: 2,791