Dunfermline Athletic 2 - 1 Stirling Albion.
Author: Stephen Taylor Date: Saturday, 25th Aug 2007

Stevie Crawford leads the 10 man Pars to a deserved 2-1 win despite the "best" effort of yet another bunch of incompetent officials.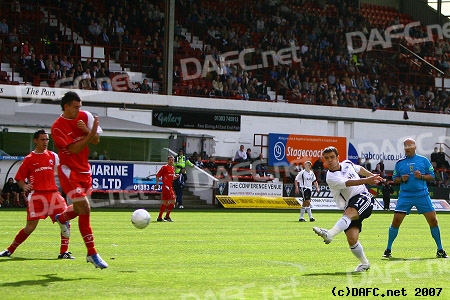 At last the Pars get off the mark with their first league win despite giving away another late penalty and Scott Morrison being sent off as last man. Make no mistake, this win was thoroughly deserved with a number of good performances and an all round improved "team" effort.

Paul Gallacher made his debut for the Pars in goals although as things turned out he could have sat on the bench until the 87 minutes when he had to make his first real save of the match. Thomson returned to partner Wilson with Shields and Scott Morrison the full backs. In midfield Young and Glass were in the centre with Owen Morrison on the left and Harper on the right. Stevie Crawford and Jim Hamilton provided the Pars cutting edge.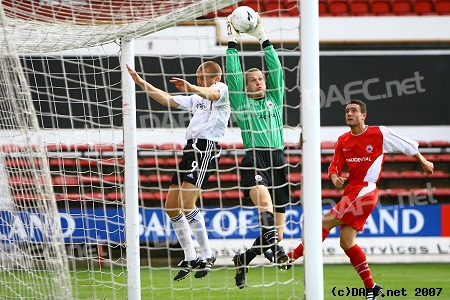 In good sunny conditions with a blustery wind the game started off slowly. Stirling Albion had a cross from the right just over the bar but Gallacher was not troubled.

The passing was woeful at this stage and the first real excitement for the Pars was when Hamilton`s shot appeared to be cleared with an arm although the referee indicated it came off the defenders chest.

Harper and Shields were linking well on the right and a good cross found Glass but his shot was blocked.

The Pars were picking up the pace and win two corners in quick succession but the quality of the crosses let them down. Stephen Glass had another shot in 18 minutes which the defender felt!

In 20 minutes a great chance to score as Harper jinks inside this time and puts a nice ball through to Crawford who was slightly hesitant in getting off the mark and he could not get to the ball before the keeper. That was a much more incisive move by the Pars.

Some bizarre offside decisions given against the Pars with the standside linesman clearly working in tandem with the Albion centre backs eveytime they lifted their arms.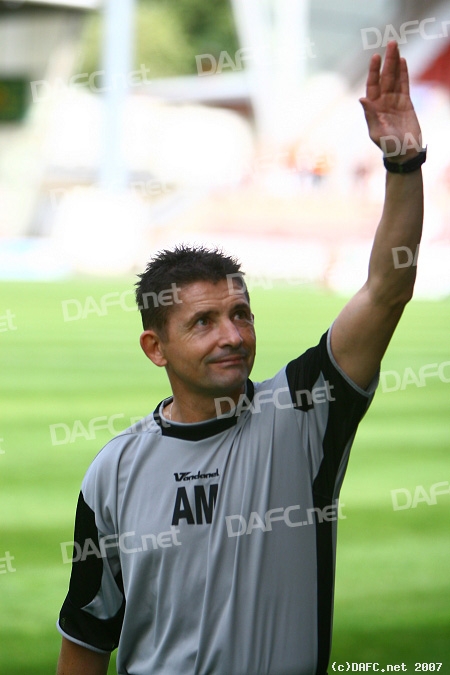 A warm welcome for the return to East End for Allan Moore
In 26 minutes Darren Young at last makes a good forward move with the ball but dithers instead of shooting and the chance was lost. A half chance for Stirling in 27 minutes but McKenna drives well over from a good position. Right up the other end Harper again cuts inside and chooses to pass when a shot was clearly on.

It was then Owen Morrisons chance to shoot as the Pars broke forward but his weak effort did not trouble Hogarth. Stevie Crawford was looking in the mood and was doing some great running. In 35 minutes he put over a good cross from the left with Hamilton heading wide when he should have scored but somehow he was adjudged offside. Just as well he missed!

The game seemed to be going the Pars way but a terrible defensive lapse by Wilson giving the ball away on the Pars bye line gave Lilley a great chance but he slipped the ball past the post in 36 minutes. Then Crawford seemed to have scored when a great ball from Glass found Stevie but his shot was parried for a corner. Half time 0-0.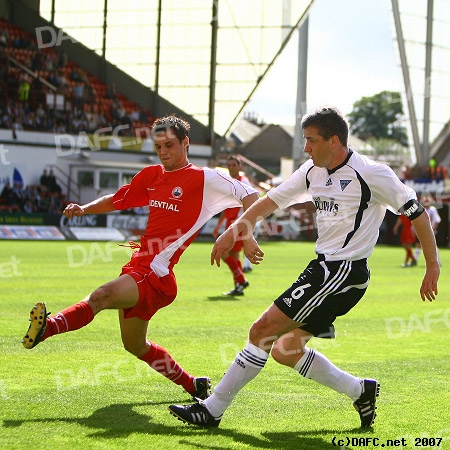 The Pars get off to a flying start with a brilliant passing move with one touch passing Morrison finding Harper and his cross sees Hamilton head wide. The Pars open th escoring in 56 minutes. The Pars get a free kick, Stevie Crawford quickly retrieves the ball and takes a quick free kick gets the ball back and puts over a great cross for Hamilton to head home. 1-0. Hamilton then gets a yellow card from the fussy referee Mr Finnie who was having an appalling game. A minute later Wilson gets a stupid yellow card for a foul on a Stirling player who was heading back towards his own half, there was no need for Wilson to lunge in.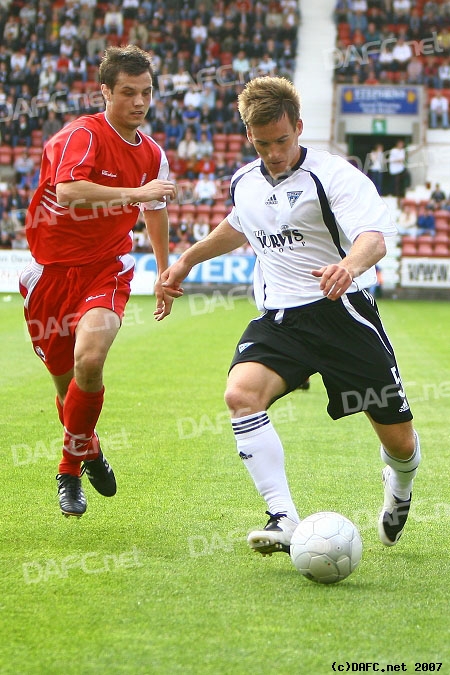 Owne Morrison was doing his usual cutting in onto his right foot and in 64 minutes had a shot saved, although Crawford was screaming for a pass on the left. Crawford then sets up Young but his shot is wide in 66 minutes. The Pars are increasing the pressure and playing some good football. It just seems inevitable that goal number two will follow.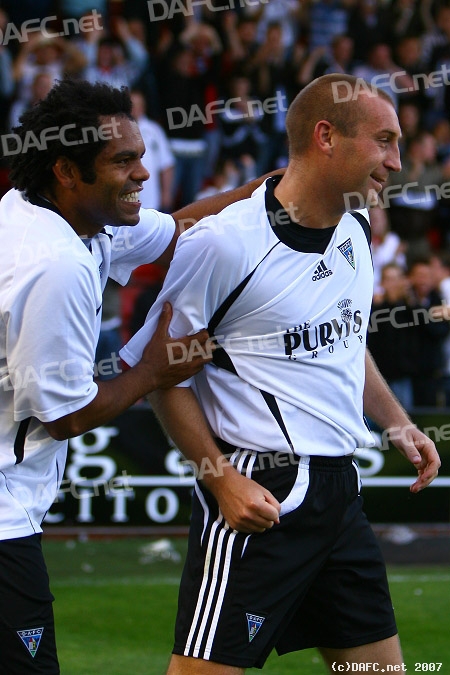 Owen Morrison curled a free kick over the Stirling wall from a free kick in 70 minutes. Then the second goal did arrive but at the wrong end. A high bouncing ball into the Pars area was not dealt with by anyone and as the ball closed in on Gallacher, Scott Morrison was deemed to have fouled the Stirling centre forward which looked harsh in what was a bit of a stramash. Morrison was red carded presumably as last man despite the crowd of defenders around him. The Pars fourth red card in four league matches. Aitken scores. 1-1.



views: 5,135