Dunfermline Athletic 2 Greenock Morton 0
Author: Alistair Campbell Date: Saturday, 14th Aug 2010

For long periods of this game, it looked as if the most the Pars could hope from this game was a point. Then Andy Kirk pops up with a double, it's 3 points in the bag, and the Pars fans are heading home happy. It's a funny old game.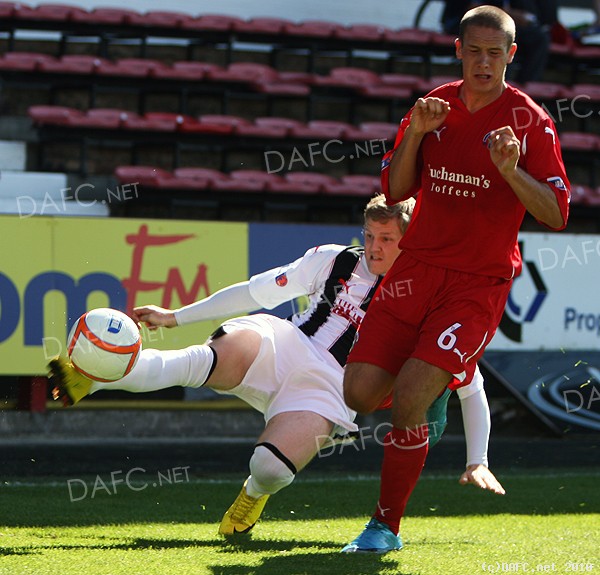 After the mid-week Alba cup exit it was no surprise when Jim McIntyre largely reverted to his SFL starting line-up for the first home league match of the new season. McCann came back in at left back and Higgins moved back to centre-back instead of Keddie who was still suspended. Cardle and Graham would start in the wide positions looking to provide service to Kirk and Clarke. Phinn and Mason began in the middle of the park, Woods and Dowie completed the back 4, and Smith was of course in goals. Even the bench was predictable, with Willis, McDougall and Gibson featuring alongside McGregor and Allison.

Allan Moore was the manager bringing his Morton team (including a fit Graeme Holmes) to East End Park, and he too favoured a 4-4-2 formation with one or two unfamiliar faces in his line-up.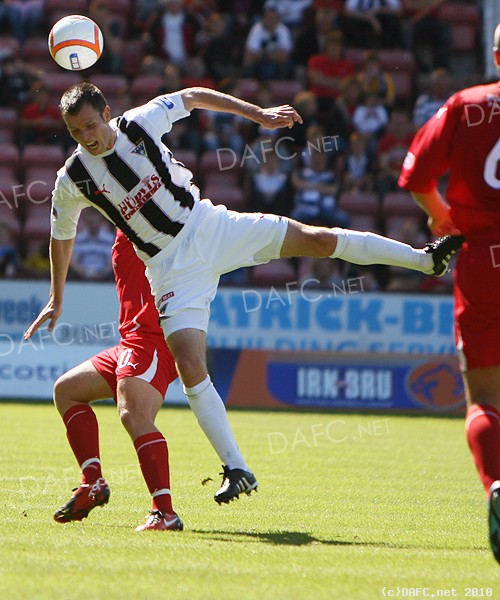 Dowie feels the force of a push
The Pars kicked off, and whilst it would be an exaggeration to state that this was their most cohesive passing move of the half, they certainly struggled in the first 45 minutes as their opponents closed them down and denied them space. Most of the early action was in front of the Norrie McCathie stand – In the third minute Tidser was allowed an unchallenged shot from 25 yards, which, whilst not on target, was only marginally ahead of Weatherson sliding in. Kelbie had a shot deflected behind by Woods and then Smyth was too fine with his glancing header from the corner.


McKinlay managed the rare feat of putting the ball over the Main Stand and into Halbeath Road, but the replacement didn't prove any luckier for the Pars. Mason's bad back-pass nearly caused his side problems before Dowie tidied up, and Jenkins connected well from 25 yards but his drive was always going wide.

The Pars nearly had a shot in 15 minutes –Dowie found Woods on the right but his driven cross was met by a Clarke air-shot. Cardle wasn't seeing much of the ball on the left – and when he did, Morton were quick to surround him with bodies – but he had the opportunity to cause some damage just before the half-hour when he sent in a free-kick from wide, which missed everyone on the way through, although the referee had spotted an infringement.


Phinn had taken a knock in 24 minutes and although he was given another half-dozen minutes he couldn't recover so Gibson came on, Graham moving to central mid-field. This didn't help the Pars much, and indeed Morton were a little unlucky not to take the lead just before the break. Shortly after Holmes had sent an off-balance effort over the top, the Pars were caught sleeping with no-one covering the right-back area, Monte chipping a cross in to the near post where Weatherson's header seemed to go through Smith, but beyond the far post. Two minutes later and there was more danger in that area, Woods slipping but avoiding tripping his man, Dowie clearing straight to Tidser whose first time effort was saved by Smith low to his left.


No goals at the break, but Morton ahead on points. The Pars support must have been hoping that the former players who had provided a pre-match guard of honour could provide some inspiration. Oh for a Ziggy or a Zico, or even a Jim Scott...

Half Time: Pars 0 Ton 0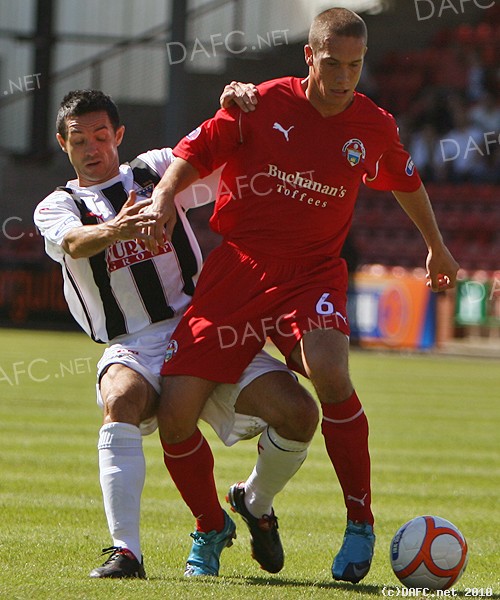 Mason gets stuck in




There were no further changes during the interval, or any changes in formation but the game became more level. Dunfermline even had a shot on goal after 5 minutes – Gibson hitting a 25-yarder with a bit of swerve, but not much pace, and Stewart was untroubled. Then Kirk and Cardle combined but Kirk couldn't get the shot away –however, at least there was a modicum of encouragement. Morton continued to give as good as they were getting, although a couple of close off-side decision stopped them in their tracks.





views: 4,267