Dunfermline Athletic 2 v 1 Arbroath
Author: Stephen Taylor Date: Saturday, 25th Jul 2009

The Pars eased to a 2-1 win over Arbroath in this 1st round of the Challenge Cup in their first competitive match of the 2009/10 season. In truth, the win was much more convincing that the scoreline would suggest.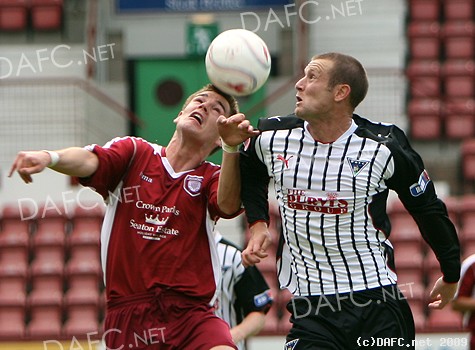 With injuries already playing a part it is quite likely that Jim McIntyre has yet to field what he may consider his first choice team. But with a small squad the reality may be that all the players will feature regularly in different selections this season. With no Calum Woods or Andy Dowie the Pars started with another re-jigged back four with Fleming in goals and Ross at right back, Higgins in the centre alongside Ozzie McCann and Glass at left back.

The midfield had Steven Bell in the middle with Burke and Graham and Gibson the wide men. Last season`s first choice striking pairing of Bayne and Kirk started the game.
Arbroath started spritely in the first couple of minutes but the Pars soon got into their passing game. The ball was being moved from side to side with the wingers probing for openings as the visitors were being hemmed back with 10 men behind the ball. Alex Burke was linking the play as was Steven Bell. Greg Ross was making good runs down the right and put over a number of good crosses.

Willie Gibson was also marauding well on the left and got some good crosses over. He had a good shot in 16 minutes when he cut in from the left and unleashed a powerful drive that the keeper couldn`t hold. There were some good crosses going over the Arbroath penalty box but nothing proving to be clear cut for the strikers. This was what the homes fans witnesssed last season with the away sides massing their defences but there are signs this Pars team has more creativity and pace which will make it easier to break defences down.
Arbroath were finding it difficult to get out of their own half with the Pars closing down well when they did not have the ball not making it easy for Arbroath to retain possession.

Steven Bell has the same important knack as Nick Phinn to make great late runs into the box and was unlucky not to score in the 34th minutes when the ball broke to him 6 yards out but his reaction shot was straight at the keeper.

As the first half wore on there were signs of frustration but the Pars kept playing a good passing game and you could sense it was only a matter of time before they scored. Despite some nice football and good efforts from Graham and Burke the game was goaless at half time. Half time 0-0.
No changes at the start of the second half. The opening goal came in 50 minutes and it was worth the wait.Some great work on the right touchline by Gibson and Ross saw the ball played to Andy Kirk who lobbed a shot over the head of the keeper from 18 yards out. A great finish to a great piece of play.

That goal seemed to ease any tension that may have been creeping into the game. Andy Kirk came close to adding a second five minutes later as he just missed a low cross from Gibson. Arbroath were trying to be a bit more adventurous and came close with a free kick.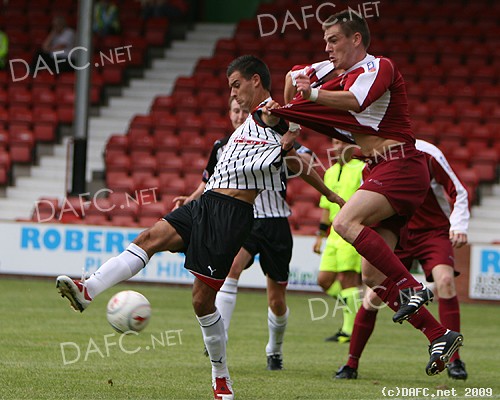 Bell gets a shot in on goal
Steven Bell came close with a shot just over the bar but it was fully merited when he did score in 69 minutes after a good cross from Glass on the left.

Defensively the Pars were looking reasonably comfortable if at times a bit ponderous and inaccurtate with their passing with the exception of Greg Ross who was having a good game at right back. Cue, an Arbroath goal in 72 minutes as substitute Redman slotted home from 2 yards out as Fleming and his defenders stood looking at each other. 2-1.

By this time the Pars had made some changes with Phinn, Cardle and McDougall coming on for Kirk, Bell and Gibson. Phinn almost had a spectacular finish to a great move in 77 minutes as he hammered the ball high over the bar.

Graham Bayne was unlucky in 85 minutes as a shot curled over the keeper but hit the post and bounced back into the keeper`s arms.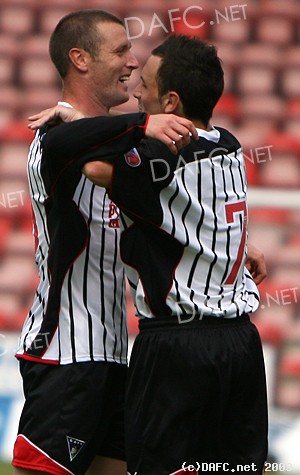 Kirk and Graham celebrating
Just as the game was drawing to a close Arbroath had a corner and there was a bit of nonsense in the penalty area that almost had all 22 players pushing and shoving which ended up with an Arbroath player, Dobbins, being sent off and Rattray booked. Final score 2-1.
Related Stories


views: 4,016