Dunfermline Athletic 3 - 1 Greenock Morton
Author: Alistair Campbell Date: Saturday, 24th Oct 2009

After a dire first half, the Pars were sparked into life by a double substitution in 59 minutes, eventually running out 3-1 winners.


The three substitutes from last week won a place in the starting line up with Phinn and Gibson dropping to the bench and Holmes disappearing completely as the Pars reverted to their 4-4-2. Fleming was between the sticks, Ross, Dowie, McGregor and Woods along the back, Burke and Bell in the middle, Graham right, Cardle left and Bayne and Kirk up front.

Morton, having recently dispensed with the service of Davie Irons, who instead was donning his boots to play as substitute for Threave Rovers in their Scottish Cup tie at Whitehill, also sent out a 4-4-2, with the number 7 Finlayson at right back and the number 3 Carlo Monti in midfield. Whilst the Pars seem to like Scotts and Gregs, the visitors go for Ryans and Brians - with 3 of the former and 2 of the latter in their squad.


A scrappy first half punctuated by frequent blasts of referee Nicholls' whistle commenced with Morton attacking the Norrie end, but there was little of interest to report in the early stages. It took 7 minutes for either keeper to be called into action, whereeupon Fleming easily gathered Graham's header.

At the other end Burke's free-kick from the corner of the box had been deflected for a corner, which was sent deep and easily dealt with, before Brian Graham seemed to catch his studs in the turf and went down, clearly in trouble. Neil McGregor immediately stuck the ball out of play to allow the stretcher bearers to removed the unfortunate forward from the field and he was replaced by Brian Wake. Graham reappeared on crutches in the second half, so presumably his injury is not too serious.


A woeful pass from his namesake David in 20 minutes conceded possession, and with the visitors having a man over, there were anxious moments before a combination of Ross and Fleming thwarted the danger, the keeper getting a knock from Weatherson's challenge in the process.

Frustration seemed to be growing off the pitch as neither side could string any sequence of passes together and this seemed to be matched on the pitch when Ross saw the game's first yellow card after hauling back McAlister. The Pars finally got an effort (of sorts) on target on the half hour when Graham and Ross combined to sent in a deep cross which Bell met with the head - Stewart made a bit of a meal of it but the ball was hacked clear before Kirk could capitalise.


Things were so bad Cardle appeared to contemplate taking unsporting advantage of an uncontested stot-up after play was stopped to allow Bayne to receive the attentions of the physio, but Joe played it back to Stewart as the half was mercifully brought to a conclusion.

Half-time: Pars 0 'Ton 0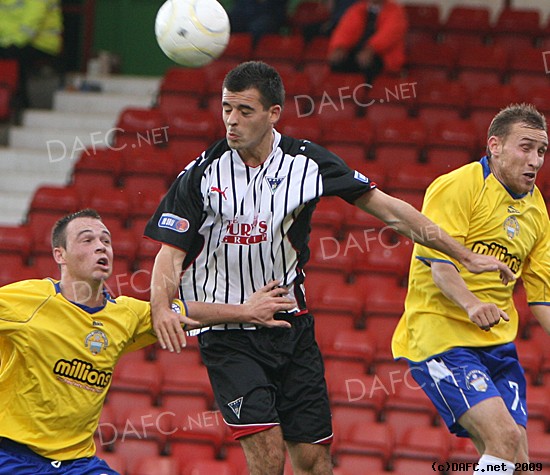 Bell`s height causing problems




You can't follow the Pars for long without learning to retain a quantum of optimism in the most unpromising of circumstances, and even though both sides lined up unchanged after the break there was hope that the second half would be better. There was some early promise when Cardle collected a poor clearance and went on a diagonal run before giving the ball to Graham, who set up the shooting chance but he was well patrolled by Greacen who blocked the shot, Bell completely missing the chance to follow up. McAlister had a better chance at the other end in 51 minutes, escaping Ross's attentions to get in a close range header which Fleming saved well with his legs.



Play was still a bit disjointed, and although Cardle robbed Finlayson his cross couldn't reach the unmarked Graham, and when Kirk got the break of the ball, but Graham found his shot from the edge of the D blocked by his own player, McIntyre was finally moved to action making a double change. Burke, who seemed to be having an off-day, perhaps not being allowed as much time on the ball as usual, and Bayne, who had clearly been instructed to drift wide to win high balls, were both withdrawn in favour of Phinn and Gibson. The latter moved to the right wing as Graham moved to the middle and almost immediately there seemed more urgency and sharpness about the Pars play.





views: 2,638