Dunfermline Athletic 3 - 2 Kilmarnock
Author: Stephen Taylor Date: Saturday, 9th Sep 2006

A superb individual goal by Stevie Crawford won all three points for the Pars against a very good Kilmarnock team that will be feeling very sore going home with nothing. Despite near perfect conditions this was hardly a game for the purists with the Pars being guilty of some woeful passing and inability to retain possession. The lack of pace in midfield was a serious weakness and only slightly redressed when Dacquin came on late in the game.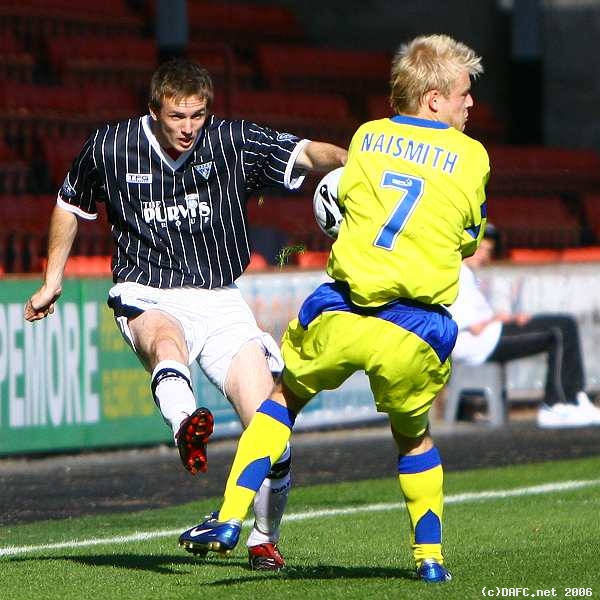 For some strange reason Leishman changed the defensive line up from 5:3:2 to the more traditional 4:4:2 which was a surprise because despite all the injury problems in these opening weeks the defence has been very strong. De Vries kept his place in goals and in front of him Aaron Labonte at right back with McGuire and Wilson in the centre and Woods returning from injury on the left. Darren Young took over the captains arm band (and went on to have a shocker of a game) played alongside Mason and Simmons with Morrison wide on the left begin the main attacking option. In attack, home debuts for Stevie Crawford and Jim Hamilton (right).

The Pars were very slow out of the starting blocks with the Killie forwards Wales Fernandez and Invincible causing a lot of problems in the opening minutes. Invincible had a good effort in 4 minutes which should have been a wake up for the sloppy defence. That warning was not heeded and Invincible scored a good goal 5 minutes later from almost the same position having been given far too much room. Labonte was having problems passing and throwing the ball to his team-mates and should have done better when he worked his way forward into a good position but chose to pass instead of shooting.

It was not until 28 minutes before the Pars had another shot at goal from Mason who had done absolutely nothing until that point. A minute later Crawford almost turned away from a defender inside the Killie area but the ball was toe poked away. The Pars had a free kick in 32 minutes which Morrison found Hamilton and he set up Woods for a shot which was blocked. Simons had a great chance to equalise in 36 minutes with a free header which he put straight at the keeper.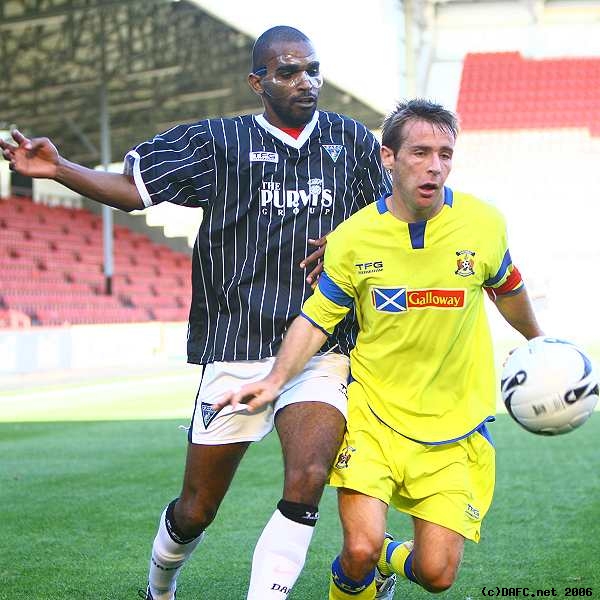 Phantom of the Opera.
The Pars did get back on level terms against the run of play in 42 minutes as a Morrison cross was met by Simmons with DARREN YOUNG (above) bundling over from two yards out. Half time 1-1.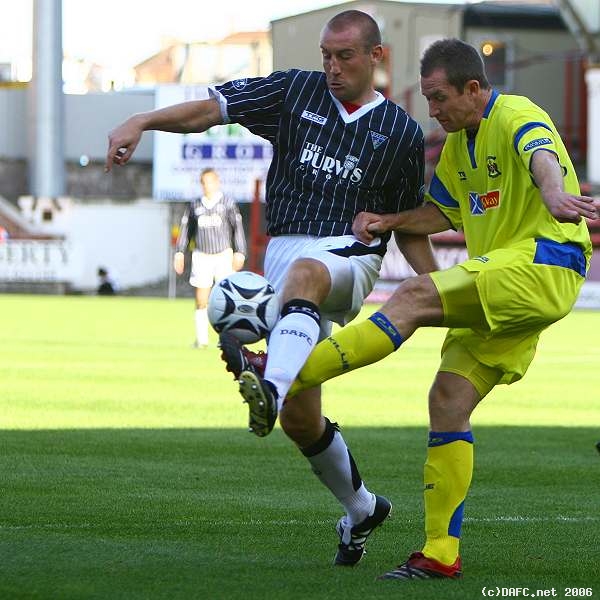 Jim Hamilton makes his debut.
One change at the start of the half saw Callum Woods replaced by Greg Ross (above). Wood shad been given a fairly torrid time by Wales and Johnston. Aaron Labonte switched to left back with Ross on the right. Darren Young managed to pick up a yellow card a minute before Kilmarnock took the lead. Mason lost possession in the middle of the park with a loose pass with the ball being fed to Gary Wales who ran at the Pars defence with only Wilson holding him up but the defender ended up on his backside as Wales slotted a low drive past De Vries for a very good goal. That was a big set back for the Pars and on the hour mark Simmons was replaced by Dacquin. Simmons had looked very slow and looked well short of full match fitness. Dacquin set up Crawford with a chance which saw the strikers shot deflected. A loud claim for a penalty for a handball incident was waved away despite the pleas of the pars fans.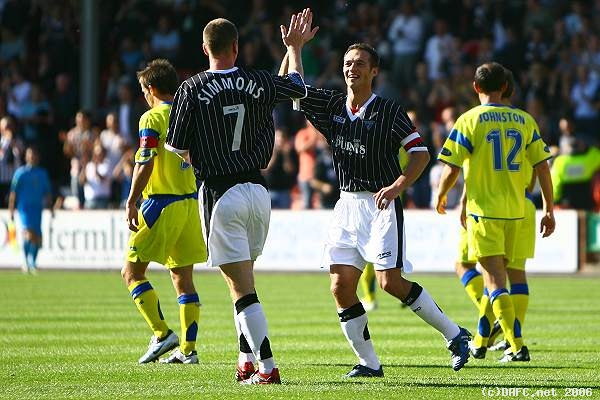 Darren Young celebrates with fellow midfielder Stephen Simmons.
Aaron Labonte had been guilty of some poor distribution and in 70 minutes almost lost his man as Killie surged forward but the youngster made a vital recovery tackle cleanly taking the ball off Wales toes in the Pars penalty area. Only 3 minutes later and the Pars were once again level a cross from the right was headed back across the goal by McGuire with GARY MASON bundling over from inside the 6 yard area.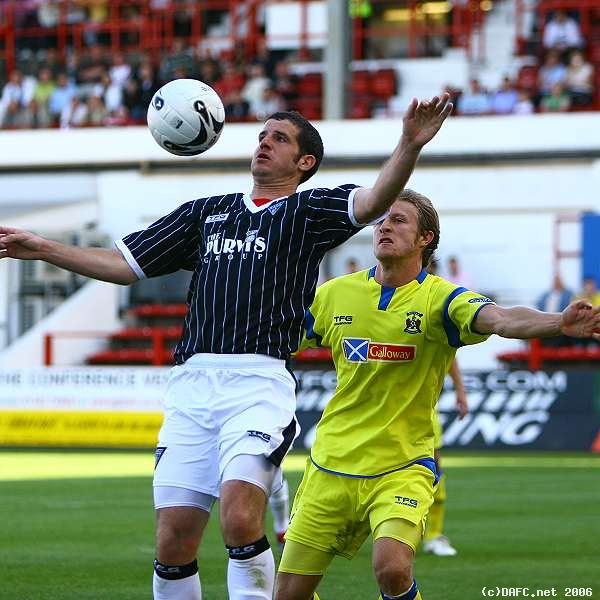 Stevie Crawford returns!
That goal seemed to give the Pars a big lift (right)as they started to get more on top of the game albeit Killie were always looking to make a quick break. The pace of Dacquin on the right was a problem for Killie with at time three defenders having to close him down which created more space for Crawford and Hamilton.

Fernandez was replaced by former Pars, Colin Nish in 79 minutes. It was then Darren Young's turn to make a vital tackle on the edge of the Pars 6 yard box. That was followed by a good effort from Hay for Killie as he cut in and shot across the goal.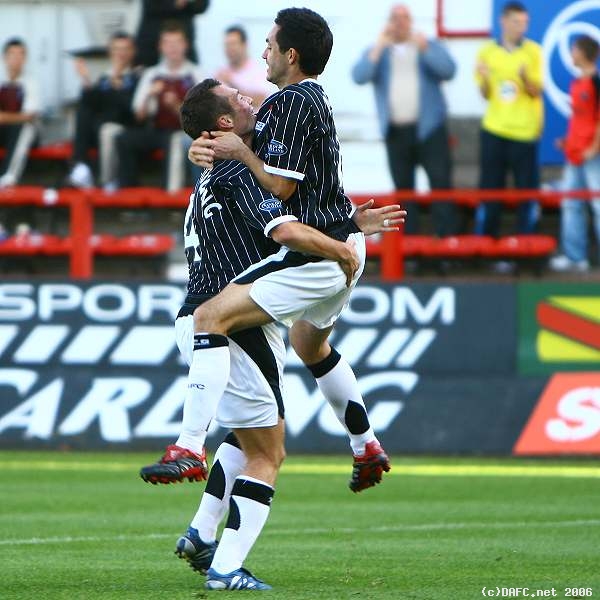 Gary Mason and Darren Young celebrate!
The Pars took the wining lead in 84 minutes as Morrison found STEVIE CRAWFORD in the inside left position with a pass that should have been released a fraction quicker but Stevie cut inside a defender and hit a shot (above)through the keeper (left) into the net for a fantastic individual effort to cap a fine homecoming (below). Final score 3-2.


Related Stories


views: 4,624