Dunfermline Athletic 6 Queen of the South 1
Author: Alistair Campbell Date: Sunday, 17th Apr 2011

The Pars romped to victory over their dispirited visitors. Despite having only a Hardie goal to show for their first half dominance, they appeared to be cruising to victory when suddenly Rutkiewicz was sent off seconds from the break. Nevertheless, the Pars kept going forward and were rewarded with second-half goals from Graham (2), Higgins, Kirk and Clarke with a Bob Harris counter only briefly causing concern.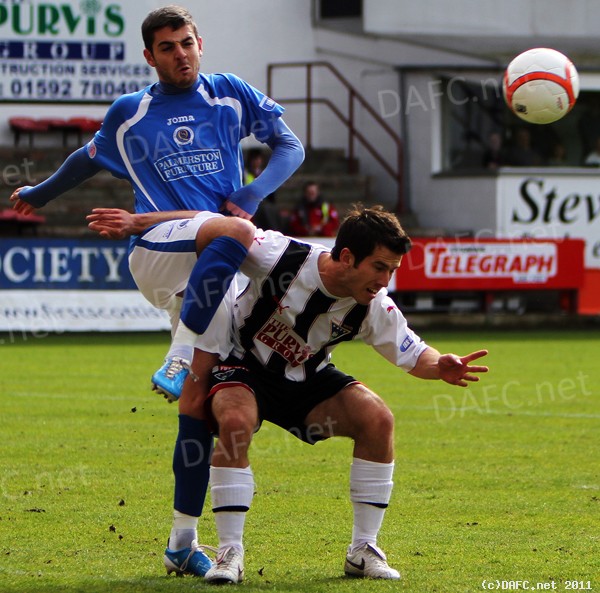 Pre-match entertainment for what could have been an anxious 90 minutes was two-fold: we had Sammy the Tammy romping about in a strange jacket and scarf combination with footwear made out of brown boxes, and the introduction of several of the 1961 legends – Eddie Connachan and a sprightly Charlie D getting the biggest cheers.

The free week had allowed some injury problems to clear up, but another couple to rear their heads – new dad Calum Woods was out and the likely replacement Andy Dowie had also had to reacquaint himself with the treatment table. However, Neil McGregor was able to fill in, leaving Rutkiewicz, Keddie and McCann to continue in their regular positions, in front of Smith in goals. Mason (back from suspension) and Hardie were in the middle as expected, Cardle was wide left, Graham wide right, and Kirk's back problem had subsided enough to allow him to start in attack alongside Buchanan. There was a solidity about the bench, where regular replacements Clark and McDougall sat alongside the experienced Burke and Higgins. Greg Paterson has the usual sub keeper's dilemma – not really wanting to be called into action, but being ready and willing if required.

Queens made two changes from the side that were thumped by Morton in mid-week – regulars Reid and McMenamin were back in, and other having former Par Roddy McKenzie in goals at the expense of Hutton, who had flogged a goal in the Challenge Cup final, it looked pretty much like their strongest line up. There was a little weakness on the bench, and stories of contractual difficulties to be overcome.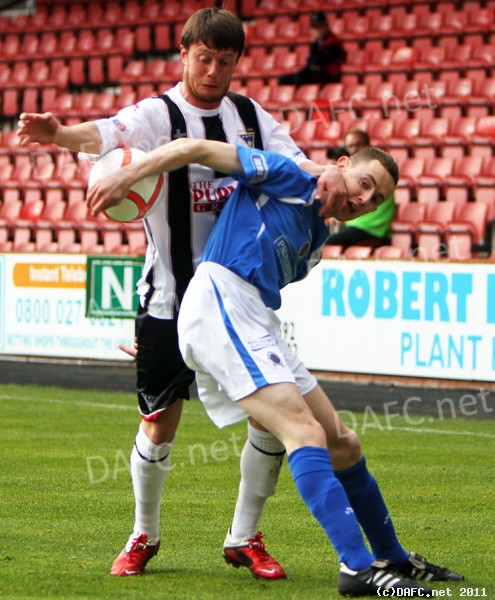 Joe Cardle challenges Paul Burns
The Pars kicked off playing towards the Cowden end, and made a decent start without troubling McKenzie. An early move involving McCann and Kirk on the left was swung by Mason to the right and Graham stuck in a first time cross to the back-post where Cardle did well to win the header but the ball was cleared behind for a corner.

Queens were playing their normal 3-5-2, and looked happy to soak up pressure and hit on the break. Their first threat came in 9 minutes after McCann had obstructed Burns on the touchline. Mason blocked the free-kick, and after Smith came off his line to punch clear, Johnston tried a lob from 35 yards. McGregor however had his geometry correct and left the ball to drift past the upright. It didn't miss by much, but miss it did.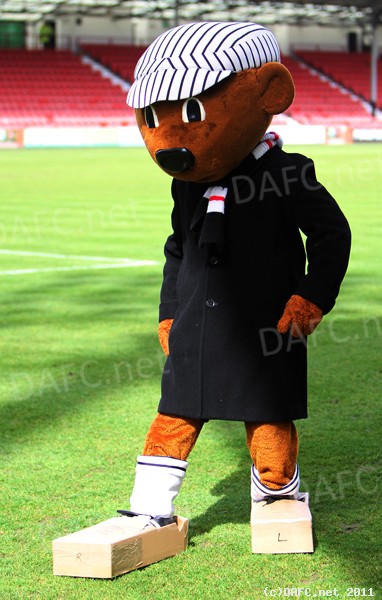 Sammy`s impression of Falkirk manager Stephen Pressley
The Pars remained on top and continued to create half chances without actually working the keeper. Mason initiated another good move on the left allowing Cardle to cross near-post to Buchanan whose flick found its way to the back post where Graham should have capitalised, as should Kirk in 16 minutes when charging down Lilley's clearance only to stumble as he ran in on goal.

Graham was more involved than usual and he moved inside to collect Cardle's pass, but his shot was deflected for the game's second corner. Hardie at least got a header on target from Cardle's kick but it was easy meat for McKenzie


The Pars were coming closer though – in 19 minutes McKenzie saved with his leg as Graham shot from the edge of area and the ball was then cleared off the line when Cardle recycled it into the danger area. To show the game wasn't completely one way traffic McMenamin had a couple of sniffs of goal but couldn't direct his efforts on target. However, the Pars eventually made the breakthrough in 33 minutes. Kirk controlled McGregor's pass well, laid it wide for Graham and his first time cross was met by the head of the breenging, massive, marauding Martin Hardie. 1-0 Pars.


The Pars kept up the pressure – straight from the restart Cardle was a whisker away from getting on the end of another Graham cross, and Hardie's towering header from McKenzie's clearance released Cardle but Lilley nipped in to deny the lurking Kirk. Everything seemed to be going according to plan (if perhaps the Pars were a goal shy of their due on the balance of play) when the match changed. We were into stoppage time (although there had been no stoppages), and McGregor received the ball near the half-way line. His pass forward to Kirk rebounded, and his subsequent lunge failed to regain the ball, which was moved forward quickly. Rutkiewicz allowed himself to get out of position and his crude challenge on McGuffie saw the Queens player crash to the ground at the edge of the box. Referee Muir was quick to flash the red card, and was probably correct. Smith dived low to save McMenamin's free-kick and even though the Pars were ahead at the break the loss of their key defender meant an anxious 45 minutes was in store.

Half time: Pars 1 Doonhamers 0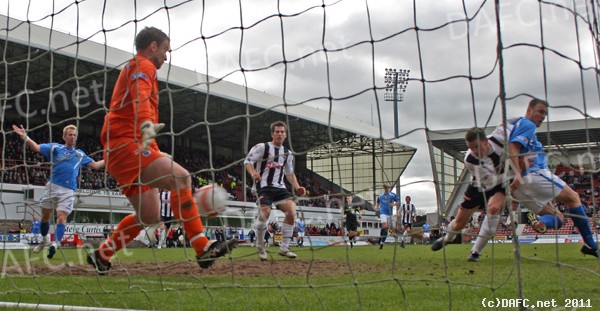 Martin Hardie gives the pars the lead




Mason had temporarily filled in at right back, but the second half started with Higgins on at centre-back with Buchanan having been sacrificed. The Pars still played Graham in a forward position, and rather than the feared sterile backs-to-the-wall performance, we were treated to an astonishing goals glut.

The second half was 5 minutes old when McKenna cynically chopped down Graham in midfield as he threatened to break free. McGregor took the free-kick and slipped as he launched it forward. The ball was over-hit and looked to be heading out of play but Cardle chased it, caught it, and centred. McKenzie and Kirk both went for it and missed it and despite Hardie falling over Graham slammed home the loose ball from a yard out. 2-0 Pars.





views: 5,650