Dunfermline Athletic 1 -1 Queen of the South (5-6 on penalties)
Author: Alistair Campbell Date: Tuesday, 10th Aug 2010

Same competition, same opponents, same result. This time the Pars got closer, but after the match finished level after 120 minutes of what passed as entertainment, they went down 6-5 in a 16 kick-shoot-out.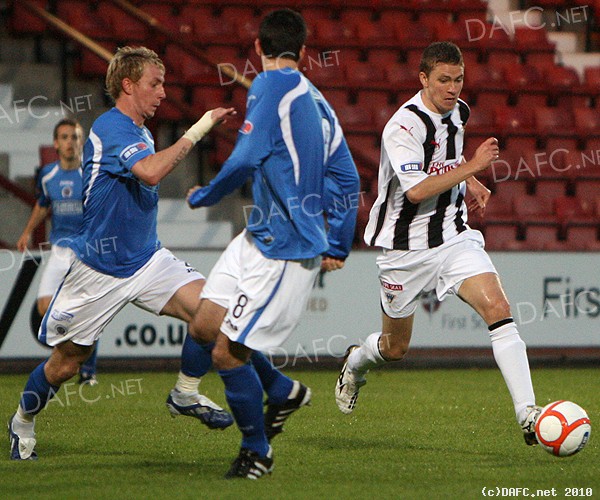 Unlike their visitors the Pars had the luxury of some selection options and manager Jim McIntyre made a handful of changes to the league line-up. Austin McCann took a break and Kirk, Cardle and Willis dropped to the bench. This meant a start for McDougall, along with Keddie, some match time for Willie Gibson and David Graham retained his place after coming on as substitute on Saturday. The formation was the usual 4-4-2 with Smith in goals, a back four of Woods, Dowie, Keddie and Higgins at left back; a midfield quartet of Gibson on the right, Phinn and Mason in the middle, Graham on the left, with the McDougall/Clarke front pairing completing the eleven. Gary Mason took the captain's armband.

The visitors opted for a 3-5-2 formation, with Holmes and Weatherston up front, and Willie McLaren occupying a more central role as ex-Gretna 2008 signing Carmichael played wide.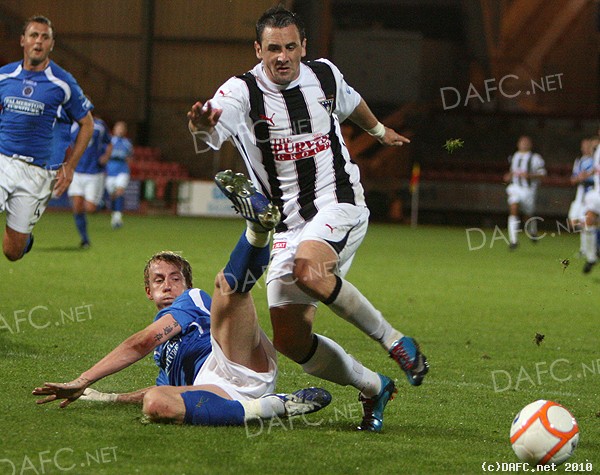 Graham challenged
The game kicked off in a downpour, which saw some players have difficulty keeping their feet, but once that had subsided there should have been no excuses for the poor fare on offer. David Graham briefly threatened in seven minutes, finding some space but firing over the bar from 20 yards, Other than that, the most threat was coming from poor communication between defence and keeper – Robinson rushing 30 yards from his goal before diving to head the ball clear early on, before having a clearance charged down by Pat Clarke, the ball rolling wide of the upright.


It was quite competitive in the middle of the park and the Pars conceded several free-kicks, largely as a consequence of being outnumbered. Keddie was lucky to get away with only a lecture from referee McKendrick for a fierce challenge on Holmes, which forced the big centre-forward to hirple off for some extended treatment, then Gibson was booked after mistiming a tackle whilst chasing back. Quinn made his way into the referee's notebook immediately after before Graham had the game's first shot on target, which Robinson easily smothered at his near post.

Half time: Pars 0 Doonhamers 0


The second half started marginally more brightly (not that this was saying much) before in 52 minutes we got what the game badly needed – a goal. It would have been better had it been scored at the other end, but to be honest, something was needed to rouse the game from its torpor. Quinn's hopeful punt up the line was deflected by Higgins straight into the path of Weatherston. With a free run on goal, the forward made no mistake, thumping the ball to Smith's right to give Queens the lead.


The Pars tried to hit back right away – Graham used the overlap of Higgins as a decoy to cut onto his right foot, but losing his balance under a firm challenge, his attempted curler came back off junction of bar and post. Twice in two matches for DG – maybe third time lucky? Queens hit back with a couple of Quinn efforts that were off target as Smith continued to have little to do.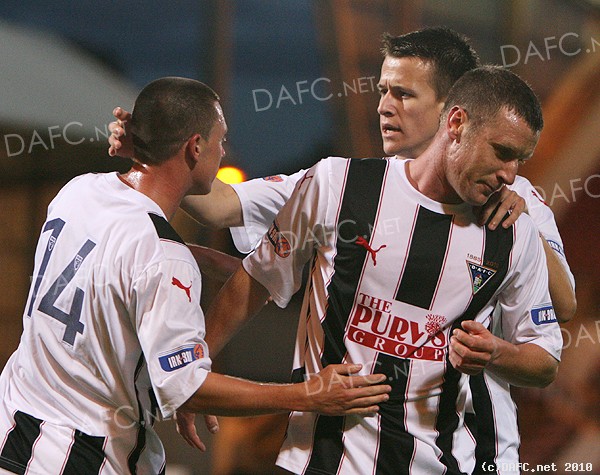 Cardle Willis and Kirk celebrate




Gibson's work-out lasted just 5 seconds over the hour (if you include first half stoppage time) before Cardle came on followed shortly after by Kirk with Clarke making way. The Pars had a free-kick at the edge of the area, and there was some hope that Kirk would make a dream start with his first touch, but Cardle did the honours, eschewing a direct shot in favour of a reverse ball to Phinn, but this was dealt with easily by the Queens defence. Things were looking a bit more promising – Cardle knocked the ball to the back-post beyond Robinson for once but Kirk couldn't direct his header on target. However the Pars eventually got the equaliser. McDougall had taken a knock and been replaced by Willis. Paul was meant to be on the right, but in 81 minutes made a more central run, found Cardle on the left, Joe cutting back onto this right before chipping to the near post where Andy Kirk got ahead of his marker to divert the ball into the top of the net. One apiece.





views: 4,144