Dunfermline release players
Author: Jason Barber Date: Saturday, 30th Aug 2003

After being put on the transfer list over the summer, players who are no longer in Jimmy Calderwood`s plans have reached an agreement with the club allowing them to leave before the transfer window closes.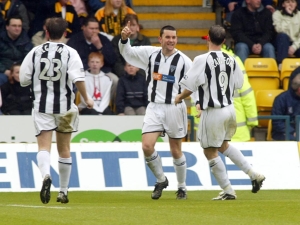 Jason Dair, George Fotheringham, Steven Hampshire, Andre Karnebeek, and Kevin McLeish have now all had their contracts terminated by mutual consent and will be hoping to tie up deals with new clubs before the window closes on the 31st August.

Fotheringham learning the JC shuffle....
Jason Dair is the most high profile player to be leaving the club. Signed by Dick Campbell from the Wee Team early in 1999, he has played nearly 150 games for the club since that time. Having played in just about every position for the club, the versatile local lad will no doubt have a few clubs looking to sign him immediately.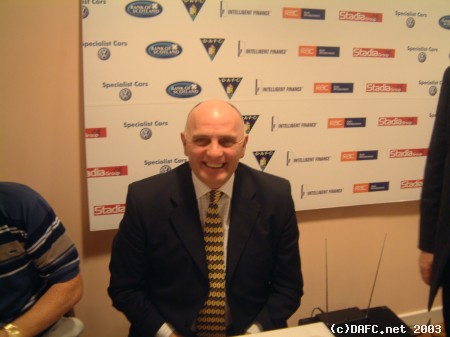 Signer of ex-Pars




George Fotheringham appears to have been on the clubs books for an eternity! Two starting appearances in his debut season of 2000/01 was a false dawn for the player, who never realised the position of a first team regular.

Steven Hampshire arrived from Chelsea in 1999 and has played in about half of Dunfermline`s matches in every season since then, chalking up over 70 apperances since joining the club. Most have been out of position for the centre forward, who was always struggling to get a first team berth up front. Injuries have not helped his cause, with many being picked up just as he was becoming more of a fixture in Calderwood`s side.

Andre Karnebeek joined the club from FC Twente two years ago. He has only managed eight games for the club since that move, with the rest of his time spent on Pip Yeates` physio couch. Fans saw the briefest glimpses of how Karnebeek could play when fit, but he will only be remembered for his terrible injury record whilst at Dunfermline.

Kevin McLeish is yet another youth prospect who is now leaving DAFC. Another player signed from the Wee Team, where he played many first team games, he is now heading to the ex-Pars contingent at Brechin City joining up with Dick Campbell and Bert Paton`s ex-Dunfermline revolution at Glebe Park.

Chris McGroarty has already joined Clyde on loan until at least January, whilst a final decision is still to be received from Scott Walker as to what he wishes to do.

DAFC.net wishes all the former Pars players the very best in their future careers and thanks for all the work done whilst in the black and white!



views: 4,411