Edinburgh Fans Forum
Author: Michael Thomas Date: Wednesday, 4th Feb 2004

The Dunfermline Chairman John Yorkston is keen to get out and meet the fans. The 2nd Fans Forum was held in the Cafe Royal Bistro bar in Edinburgh.
Chairman John Yorkston, Manager Jimmy Calderwood, Director Jim Leishman, Frank McConnell, players Craig Brewster and Lee Bullen and Hamish French all turned out to meet the fans in Edinburgh.

The evening was mainly a question and answer session.

Q. What is the connection between DAFC and Stadia Management?

JY. What happens with Stadia is that they go into a club, like Dunfermline, Stadia have a look at the ground, they decide along with the club what are the bits that you need at the club, what will bring in money in the future? Now Dunfermline, you know that Stadia put in the Sports Injuries Clinic, they put in the conference and banqueting, we've got Legends bar, we've got the Jock Stein Suite done up and that's going to become a restaurant shortly, and we've also got the Rennie Lounge – this has all been done, that's there, it's fact. We're also very close to doing something with the office block - that will bring money into the club. At the other corner we're looking at putting in the hotel. It's a 54 bedroom hotel at the moment, that could change as they could take one floor out and make it one very big function suite, but at the moment it's a 54 bedroom hotel.

What you do is, you cost all these and a business plan is done by Stadia. It's externally examined by accountants, not Stadia's accountants or Dunfermline's accountants, but by independent accountants, and they look to see if the plan works. If you are buying a pub your first 5 or 6 years will be paying back the bank, it's only years 7 and 8 you start seeing the money, once you've paid back. It's the same idea with Stadia, it's not a short term fix, it's a long term fix. You don't make the great deal of money in years 1 and 2, it's something that as you pay off the capital and interest, like your mortgage as that reduces, so the money that you bring in, you get more and more coming to you. 75% of those profits go to the football club, to Dunfermline Athletic, or to Livingston, or to wherever else they're involved. There's 20ish sites in the UK. There's one just opened in Woodstone [?] in Kent last week, it has 5-a-side, bar facilities….. it's a big thing which just opened, big launch last week, a 5, 6 thousand pound development. The money that you take in from these facilities pays for the capital and interest. It does not cost the club, (Dunfermline, Livingston, whoever) one penny. This money is all sourced. You form a company called 'Dunfermline Stadia Management' or 'Livingston Stadia Management', they are responsible for that loan, they are responsible for running the place.

Now if you take Livingston, the people there are the 75% owners of Livingston Stadia Management, they are responsible for the success or otherwise of that company. Now what you can't do is anticipate that you're going to make a million in year 1 - you're not, we don't make a million year 1 at Dunfermline. You're looking at, short-term, making a contribution, and that contribution each year will get larger as you pay off the capital and interest. That's the theory behind any Stadia project that's on the go. If you look at Coatbridge for example, if they were to do Albion Rovers, you wouldn't put in an indoor bowling rink as one of the parts because there's one a hundred yards up the road. You look at Dunfermline, you see there's a need for hotels, so a hotel becomes part of the project. Some places it involves housing, some places it involves indoor bowling, some places it involves tennis. You've got maybe 20 pieces of a jigsaw, but only 6 or 7 apply to Dunfermline, a different set of pieces apply to another site, and so on. But you put together what you regard as the parts, and those parts should all produce enough money to pay off the capital and interest, and to give an income to the club.

Q. John you used the fact of the office centre as a comfort for the future at EEP, and I know you can't believe all you hear in the newspapers, but I'm of the understanding that it's the office block that's brought Livingston down. Is that right, wrong, or what?

JL. Can I say, just before the chairman answers that, that I was involved at Livingston …

[shout of "His fault!" from JY]

…and if there was a mistake made there, probably the biggest mistake is that they haven't filled the business centre at Livingston, it was soft leases, 5-year leases at £10 a square meter, for how many years you want in that office, that was one of the problems, rather than getting, say in Edinburgh you'd maybe get £65 or £55 a square meter for rent, they were trying to fill the spaces, so there wasn't any income getting generated through the business centre there, that was the problem, so they couldn't afford to pay it back. When you come in off the motorway into Livingston, there's about 2 or 3 business centres or office spaces for rent on one site, on the other side there 3 or 4 near where they built the new ASDA, 3 or 4 that the council were building and building these spaces and they couldn't fill it. In the Dunfermline one, we have at this time, possibly 80% of it leased, which is a huge difference, they had nothing like that, and that is a real bonus.

Q.That 80%, is that to related companies, or to new companies, or…?

JY. It's to a variety of companies, some are related, the remainder are not. I can't say who those companies are unfortunately, but we do know that we're going to have the place 80% full once it's built, these are contracts that have been signed. I have a company that's taking over one floor, the lease of our present premises expires in September 2005, we'll be moving in either to that site if it's ready, or to temporary accomodation til it is ready. And there are others that have got leases coming up for expiry, people that are involved with football, people that want to be involved with football. The original question was about Livingston, I don't want to be specific about another club, but as I said you can't expect to get a million pound at the start. They have £10 million of debt allegedly, the contribution from Stadia in the first few years would be very, very small – I don't know their figures, but if you got £100-200 thousand contribution from Stadia in the first few years, that would be good going from Livingston Stadia Management. How you got £10 million in debt and you can blame it on that £200 thousand is a question you've got to ask others.

Q.Reports in SoS suggest Stadia are in financial difficulty, and we know they own EEP and rent it back to us. If they were in difficulty, is there any way that they might sell on that asset that would threaten our ability to play at EEP?

JY. At the moment we have 120 years of the lease to go on EEP so the football club are secure for 120 years irrespective of what happens to Stadia. The bit about it [Stadia] being financially secure as a company, that is an opinion which is not shared by folk that I know, the thing is viable, it is ongoing, and the people that are looking to acquire it are doing it with that in mind. What you have to bear in mind is that if you spend money on any development, the first year or two are the hardest, if you buy a pub, as I said, the first year or two are the hardest, you've got to pay that capital and interest, and your profit, you might not get much out of it yourself, but year 2 you've got that bit more, and so on until the year 5 or 6 and you've paid off the bank. That is what happens with Stadia, you can't bank on too much too soon, and when you do business plans you've got to put a small amount in to start with and then [inaudible]

[Frank McConnell says something, but not to mike, and it's inaudible – my notes say it was "If Dunfermline pay the rent, they are secure"]

Q.If someone else does end up with ownership of the stadium, can the rent go up?

JY. Rent is £200K p.a., which is manageable, so no problem there. There are clauses built in, so it can't leap up [FM – "you can't impose unreasonable increases – 'reasonable' is open to interpretation, but usually based on things like inflation and so on"]

Q. What if someone wanted us out?

JY. They can have it in 120 years

FM. They couldn't do that, it'd be subject to tenents' rights. If the money was right, DAFC could agree and build somewhere else, that's always a possibility, but they can't force Dunfermline out, just because of development potential of the land.

Q.If we're already up to our overdraft limits, what do we do when summer comes and the revenue streams dry up?

JY. The money we get from the SPL is paid out in June, we do get a few advances during the year, but the majority of the money is paid out [based on] your league position at the end of the season. The further up the league we finish, the more money we get. We also have in June, that's when we sell the season tickets, obviously that's going up, with more that 3,500 season tickets in June, so you have the money coming in then, also whatever friendlies you play during that time.

Q. SoS suggested Gavin Masterton had sold his stake in Stadia – is that true or not?

JY. I don't know what stake Gavin has, that's the first thing. I'm not saying 30% is right or wrong, I just personally don't know. Gavin has been in talks with a company about selling his stake. Because it's ongoing, I don't want to say too much, but… think that's all I can say, it's a personal thing for him, his share in that company and it is in negotiations at the moment.

Q.Have we budgeted for replacing the pitch if we're not allowed to keep it after the 2-year trial?

JY. We have been in discussions with UEFA before we put the pitch in. It's a 2-year project just now, however they will assess the reports and everything else, the players have to fill in a form after every game, home and away teams.

[Craig Brewster interjects that it's away teams that do it EVERY game]

JY. They have to assess the reports from these teams, they have to assess the reports from the referees, and also physios' reports of injuries and things. That takes us into year 3. If that surface is not suitable, UEFA are committed to going for suitable surfaces. If another surface becomes available that is better, we will look at that. If we have, in the unlikely event, to go back to grass, we have covered that in the contract – I'm not going to give out details of any contracts we have with companies, but that event is covered to our satisfaction.

Q. So there will be funding to replace it then?

JY. That event is covered to our satisfaction.

Q. What if we get into Europe – how will we be able to use the plastic pitch?

JY. I'm not too sure on that one to be honest, because I know Torpedo Moscow used their artificial pitch, this season, they played a UEFA Cup tie on it. Certainly UEFA are promoting it. We had a guy, one of the UEFA reps, was in last Thursday, Craig [Brewster] was speaking to him as well, they're putting in 20 packs in Norway, and one of the boys that was over was a UEFA rep, and it's certainly getting pushed by UEFA that you can use it. You'll certainly be able to use it, the following season, but for teams that have been part of the UEFA project, they're going to be discussing it at the next committee meeting, [about] allowing us to participate in the UEFA Cup next season. I can't promise what way that will go, but it would go against everything they're working on if we're not allowed to use it, and certainly Torpedo Moscow have used it.

JL. Away from the senior side, can I just tell you about one wee thing. The weekend we played Aberdeen at EEP, on the Friday, the first team trained on the pitch, and had a trial game in the afternoon, the played the under-19 game, and at night Hamilton Accies played a Norwegian athletic touring team, on the Saturday morning Hamish [French] and the community programme had something like 35 youngsters from 9:30 to 11 o'clock, then the first team came out and played. On the Sunday the youth group played 2 youth games. So from that side of things it's a tremendous asset the park, time will tell about the actual senior side of things, but [to HF] last night, how many young girls did you have?

HF. 35

JL. 35 girls, under 12s on the park, and it doesn't matter if they're in the goals or wherever, it doesn't affect it, so from that point of view, it's very very positive, and we're filling it now, from 4 o'clock til 9 o'clock, Monday to Friday, we can't get enough space, so many people want to use it, so from that side, it's going to be a benefit

Q. Can the chairman say anything about the new television deals that theSPL are negotiating or hopefully negotiating?

JY. Again, you ask me about contracts that are happening or about to happen. There'll be an SPL meeting in the next week or so to discuss the TV deals for the following few seasons. We're not allowed to say who we're discussing with or how much they're for, but… [says no more, but has a huge and pointed grin on his face]
But we're reasonably optimistic that they'll be better than what we've got, and I hope nobody's quoting that and putting it on the website [!], but we're very optimistic we'll get a better deal.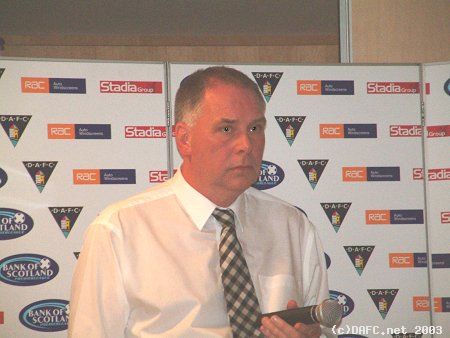 Pars Chairman
John Yorkston




views: 3,184