Ex Pars players in the news!
Author: Jason Barber Date: Wednesday, 2nd Jul 2003

Yes, as has been documented on the messageboard and in the press, Youssef "The Enigma" Rossi is back. After being effectively AWOL for a whole year, and on a FIFA worldwide transfer ban because of it, he has bitten the bullet it appears to return to his employer.
Whilst this may seem a belated end to an incredible story, a whole new can of worms is now open. Due to his return, the club are now duty bound to commence salary payments again, something which has not been happening since his disappearing act a year ago.

Rumours of him training with previous club Raja Casablanca in his homeland spread to Fife a few months ago, but since then nothing has been heard from the controversial defender.

The bottom line is, that Rossi has now pitched himself up for pre-season training alongside team mates he has been happy to call "racist" in the past, as well as not being in the same playing league as himself. This must make for interesting banter off the ball if nothing else!

Jimmy Calderwood is saying the correct soundbites to try and prevent the press from gaining a juicy exclusive in the meantime. He has stated that Rossi has a lot to do in order to win back his, and the players`, respect. Needless to say, Rossi`s brother and agent has responded with yet another ridiculous allegation of Rossi being too good for Dunfermline. The less said about the other Mr Rossi the better going by past history however.
On a slightly better note, former Pars captains Andy Tod and Ian Ferguson have also been using the training facilities down at Pitreavie.

Tod has been unfortunate ever since Bradford`s money problems reached a new level. One game away from playing his 25th match for the club, another game would mean a £25,000 payment to DAFC. That is money that Dunfermline no doubt need, but Bradford simply cannot afford. Loan spells at Hearts and Dundee United have seen Tod back in the SPL, but no permanent deal has been forthcoming.

A man who has played hundreds of games for Dunfermline, many successfully up front, Tod now finds himself hoping to find a new club before the season starts. The current cash pinch in Scotland and the Nationwide in England may limit his options however. He remains under contract at Bradford for another year.

Ian Ferguson also returned to join his old team mates as he has a three week break before returning to Australia to play another season for Northern Spirit alongside Stewart Petrie. The Press, needless to say, focussed on Ferguson`s return and even managed to say "ex Rangers and Dunfermline player" which must be a first in the Scottish papers!

Dunfermline`s first friendly match takes place next week in Lewis, further details on the games being played there will follow.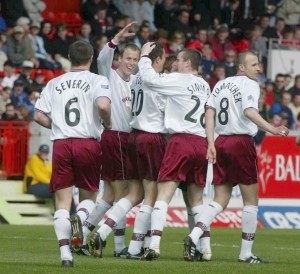 Toddy scoring for Hearts




views: 4,715