Gary Dempsey leaves The Pars
Author: Jason Barber Date: Thursday, 24th Feb 2005

Dempsey has not been with the Pars for long, but he contributed many a fine performance during his spell here before injury limited his appearances this season.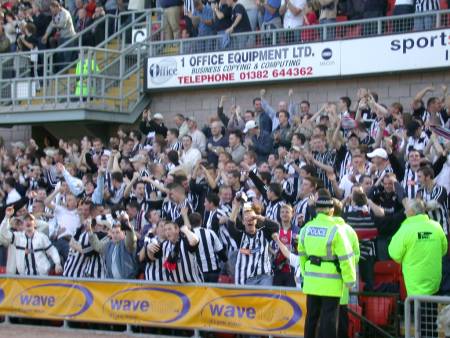 Signed for a fee of £50,000 from Waterford United in Ireland back in the summer of 2002, Dempsey was a 21 year old with U21 caps for his native Eire.

Then boss, Jimmy Calderwood, put Gary in at the deep end for his debut. The first game of the season was away to Celtic. In front of 57,415 fans, Dempsey came off the bench in the 74th minute and had a "Roy of the Rovers" style entrance to Scottish Football.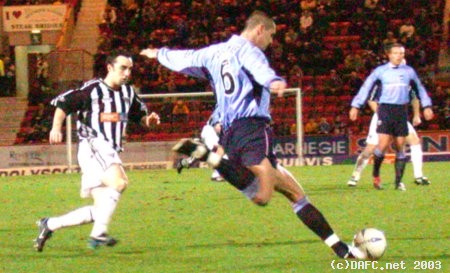 A footballer. Also Lee Wilkie
Belting the ball with his first touch, he scored an absolute screamer to open his Pars career in the best possible manner! It was to prove a consolation in a 2-1 defeat, but what an introduction to Pars fans!

The opening goal in a 2-1 win over Dundee United was to follow just a few weeks later.

That was to be his second, and final, goal of the season as he went onto play in 37 of Dunfermline`s games during 2002/03 (with 15 of those as substitute)
2003/04 also saw Dempsey used sparingly at times. Whilst his attacking qualities were often put to good use, Jimmy Calderwood`s constantly changing tactics during matches, let alone different fixtures, saw Dempsey often sacrificed as the player to miss out on a starting place.

As the season drew to a close though, Dempsey suddenly found himself in the spotlight more often.
Finally getting a regular starting slot in an attacking central midfield role, he opened his goalscoring account for the season at home to Hibs during a 1-1 draw in April.

His second of the season was to follow during the comprehensive 3-0 win over Motherwell two weeks later.

More high profile goals were just around the corner!

After his spectacular debut goal at Parkhead, better was to follow as he scored the all important winning goal during the 2-1 win over Celtic in May last year. Another superb strike which left the keeper clutching thin air!
Still on a high as the season drew to a close, Rangers were the visitors in the last match of the SPL campaign. The game was not too important at the time, as the small matter of a Scottish Cup Final was to follow six days later.

Dempsey scored twice past Stefan Klos from dead ball situations to leave the Rangers defence blaming each other for the goals. Dempsey`s quick thinking saw one strike hit the back of the net whilst the Rangers defence still organised themselves.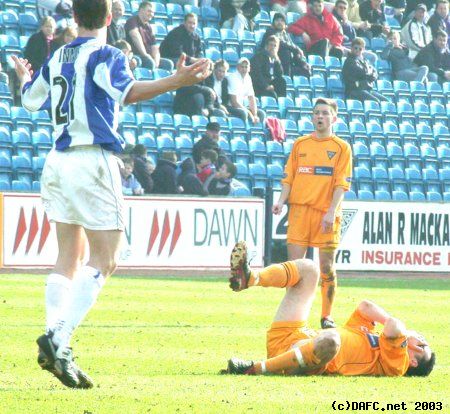 Dempsey received a brutal reception at Killie once




Dempsey played in 40 of Dunfermline`s games last season (20 of which were as sub)

With a Cup Final runners up medal in the locker, this season saw Dempsey get his best ever run of first team starts. From the opening day fixture against Dundee United, to the 2-0 loss at Livingston where he suffered a bad ankle injury, he started every match.

During that run, he became the most recent Pars player to score in Europe, with the opener against Hafnarfjordur at McDiarmid Park. A goal which, at the time, was looking to take us into the next round.....

Since then, he has returned from injury and his last Dunfermline goal saw his Irish jig performed for the last time as we beat East Fife 3-1 in the recent cup replay.

Dempsey`s last game for Dunfermline was during the poor 2-0 defeat at Inverness in January.

In total, Dempsey played in 99 games for Dunfermline (37 as substitute) and scored 9 goals for the club.

Nearly the 100 mark, but it was not to be!



views: 1,985