Hawk Eye the Noo
Date: Wednesday, 4th Dec 2019

VAR what is it good for ?
Certainly the arguments are raging including a good going articulate and well informed debate on the PFF. I have the rare ability, like my hero, the late broadcaster Bob Crampsey, to turn any football discussion into a mention of cricket.
On a warm summer`s day, watching a Test Match at Headingley, Leeds, Yorkshire, you enjoy your cucumber sandwiches and your warm ale. Suddenly there will be an "Umpire Decision Review". The crowd falls silent in anticipation.

Decision "Not Out".

Joe Root stays at the crease. You see Hawkeye began with cricket in 2001 with the current system in place for 2009. Wimbledon took it in 2007 though you do miss the days of John McEnroe screaming "You Can`t Be Serious"!!

The Premier League accepted it in 2013 after trials where I saw it first hand in Eredivisie.

Rugby adopted it in 2015 though who can forget the 2015 Rugby Union World Cup, where Scotland was robbed by a disastrous refereeing decision, where 80,000 inside Twickenham realised the error, as it was on screens around the stadium, but the ref was not allowed to refer to them? He fled to his dressing room.

Wimbledon had decided only three appeals in a match, usually for good reason.

Interested in betting further afield, why not try the betting portal betting24

The Pars Fans Forum debate is a good read pointing out many of the problems now being evident.The FIFA view is that VAR is a success. They found that 99.3% of decisions at the World Cup were correct.

There was the highest number of penalties ever ie 29 and it was the cleanest World Cup in decades. It was certainly more of a success than in the Women`s Counterpart where the constant interruptions and delays became tedious. In most games with VAR there will be an average of 7 delays of 80 seconds for the OFR, though most of these are silent eg for an offside and the crowd is unaware.

Many football Journalists feel that VAR does well on factual decisions eg an offside but less well on a subjective human one like a penalty. We are never going to see VAR at East End Park until we return to the Premiership, and even then with installation of at least £25,000 plus running costs it sounds prohibitive, for a club which cannot afford to renew its Tannoy system.

In any case, those seven interruptions, where the crowd does not see what the Ref is viewing, will not only add to the tedium on a hypothermic winter`s afternoon, but make it impossible to catch the 19 bus back to the Stance.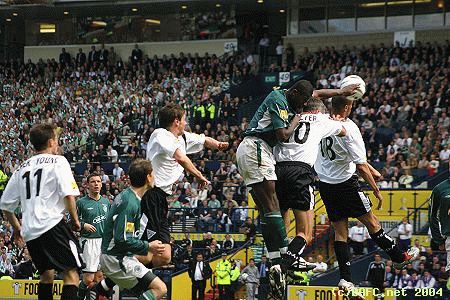 All the same,with VAR, the Ref would have seen the Celtic handball in the Scottish FA Cup Final 2004 and we would not have had the penalty awarded against us in the Cup at Hamilton. Nor would Lee Ashcroft have been sent off in the Premiership Play off v Dundee Utd. With VAR, goals which crossed the line in games in recent years at Tynecastle and Easter Road would have stood.



Certainly VAR is throwing up many problems as the PFF discussion on the Real v PSG match highlighted with a red card and penalty rescinded. Do we just need tweaks? Are these just teething problems ?

VAR is meant to review four areas ie
-- A Penalty or not.
-- A goal or not.
-- A Direct Red Card and
-- Mistaken identity.

Most controversial can be offsides but the Ref can refer to the OFR eg if the game is halted. (Though some critics point out a Ref could be influenced by a club with a large boisterous support as he deliberates).

The FA has justified some strange decisions recently by saying injury played a part (not in the regulations). Players can now be yellow carded for signalling an OFR which is very naughty. Banners are appearing at some European marches translating as Ban VAR. At other games banners remarkably block the view of the cameras.

In the initial FIFA rules there was not the excessive focus on a goalie moving at a penalty which did for Scotland`s Women`s team.

You still wonder if the fun of a football match is the human element. You come away in the coach discussing the human error, the subjective element. Is our game compatible with technology or could it detract from it?

In years to come at EEP, the Stadium Of Dreams, we may watch slow motion and action replays and zooming in but will it be as good?

I bet we still won`t understand the new penalty rules !

JL.




views: 1,525