Hibs comments
Date: Monday, 2nd Dec 2002

Jimmy Calderwood was disapointed with the performance but glad the players have the resilience to come back.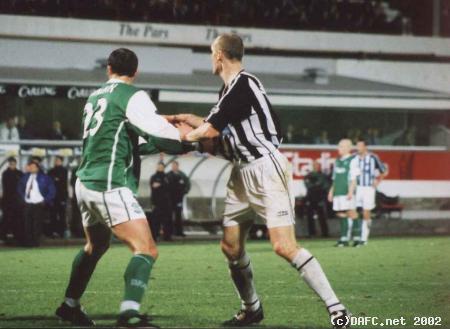 Bobby Williamson
Bobby were you happy with point ? no, I`m disappointed as we were in front, a points a point so we`ll have to accept it and get on with it. I felt in both halves we started brightest, especially in second half, three shots at goal in as many minutes. I`m pleased we got a good start but unfortunately we didn`t capitalise on it. my players did well enough today.

Jimmy Calderwood
we didn`t get started at all first or second half. I thought we were poor. I don`t know why, we`ve had a tremendous training week. we`re normally good passing team, we didn`t do that today. our touch wasn`t there, no imagination.

Hibs defended well and then got the break. There wasn`t many chances on both sides, Lee Bullen put one across in first half, normally Craig would bury it - dont know what happened.

We went 1-0 behind (as usual), that`s the only plus thing we had the resileince to come back again, we`ve a tremendous home record and at Dundee, and here with Hearts and Hibs today.

We didn`t deserve to win, we got the draw and that was the most we deserved to be honest. It was magnificient from Jason Dair, great skill, Stevie for his own high standards was very quiet, but he still scored, thats the quality of the lad. from our own point of view, not taking it away from Bobby`s team it was a poor performance were normally a better team than that. Bobby may have accepted a draw before the game, but I`m not so sure he would now.

We have to be happy with the draw. we`ve a great bunch of lads but thats one of these days. The lads are disappointed, there very quiet in the dressing room. it shows you how far we`ve come we`ve only drawn 1-1 with Hibs , hopefully we can make up for it midweek. other results have gone Ok so there`s not much damage.

Thats the only one we`ve drawn this season (I think), apart from Rangers Celtic - but we don`t count them.

When asked about Stewart Petrie, thought about bringing him on, he`s a good player and can still do a job for us. if someone comes in for him then we`ll listen to offers, we won`t stand in his way, he`s been a good servant for the club.


Andrius Skerla
we didn`t start to play until second half again. Andrius was asked about European games, as he`s played with PSV a few european games, we have to play well but have to wait until end of season before thinking about Europe.

Yes I`ve also been involved in European championships and may play against Scotland. I don`t know if I`ll play or not. Stevie is a very good player, he`s scoring goals, playing very well at the moment, it will be a good match and it will be good to play against Scotland. There has been some rumours that the manager will play the U`21 team but I don`t know anything about it.


Barry Nicholson
it was good that the fans were behind us even after we went behind again, I`m pleased that we pulled one back, we know we can play better, we`re doing our best, we`re still in 3rd place although its disappointing to drop 2 points, we`re disappointed the way we played but.

We`ll be trying to get all 3 points against Dundee United at home. It will be difficult, but we`re confident as we`re playing good football, except against the Old Firm. even then we`re playing better against them.

We`re not trying to go out and defend, we may have started that last week at Ibrox but we held on for a while. we`re out to win games.

When asked about European football at EEP as its been a long time, its not been talked about in the dressing room, but we may end up at the end of the season, but thats a long way away and a lot of games to play, we don`t want to think about it.

What about the the scotland game Barry, I`m delighted to get into Scotland setup, I have always wanted to play for my country. The manager [Voghts] needed to see me in more games. At the start of season I didn`t do as well as I could, but last few weeks the manager is saying my form is starting to come back a bit.

At the start of games we say we need to keep a clean sheet, we know we can definately win the game as we can score the goals, especially with the two boys up front. but if we go a goal down we know we can pull back.

What about the object thrown onto pitch. I didn`t notice anything that was thrown, didn`t know until after the game.
Related Stories


views: 2,560