Interviews at Tannadice
Author: Brian Duncan Date: Sunday, 15th May 2005

Hardly surprising that the players were delighted at Tanadice after the late goal to secure SPL status.
Scott Wilson
A confident Scott talks about the game, pleased with the way training has gone this week, and that the boys stuck to their task. Luck has gone Dunfermline`s way the last couple of games, but evens itself out over the season. Commenting on Gary Mason`s appearance in the box, it must have been something to do with showing off his (Mason`s) hairstyle ! [its certainly good to see the players having good banter betweeen themselves - Brian]
Gary Mason
Gary, delighted the fans came up in their thousands, they made a difference. I just gambled going up and it paid off. It was a very hot day, sometimes takes it out of you, but we got a second wind. During season we`ve often just not got the break, but not with want of trying, but today we did.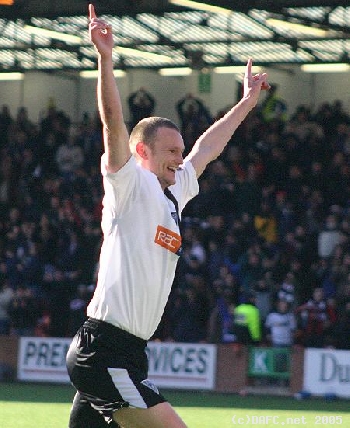 Scott Wilson celebrates.
Jim Leishman
Jim needs a seat and out of breath, He says Derek Stillie was international class today and wanted everybody to give just a little bit extra. The defenders did really well. players were magnificent. It wasn`t going to be a great game, but the pressure on everybody at this end of the leage, makes it exciting, but its dificult. no pressure on myself, but I felt pressure for the players and the club, and the fans. two weeks ago we were relegated, both games we were bottom of the league. both games were immense. Optimal Productivity is what we had today. more important this time, the wee aeroplane thing was relief, more important than last years cup final. Hope`s Paul Ritchie is well and doesn`t miss the cup final, thats the calibre of the man, deeply sensitive to his professional colleagues.

There is only one play to play thats the SPL - look how difficult it is to get in.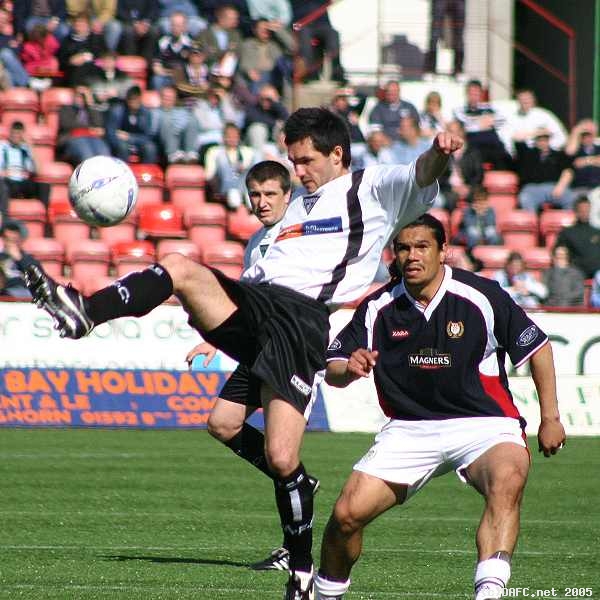 Gary Mason v Fabian Cabellero.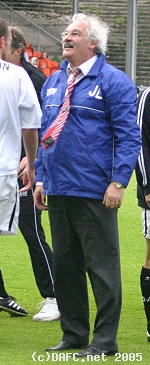 Jim Leishman
at the Final Whistle
in awe at the Pars Fans
Related Stories


views: 2,873