Inverness CT 2 - 1 Dunfermline Athletic
Author: Stephen Taylor Date: Saturday, 12th May 2007

The Pars valiant effort to maintain their SPL status floundered at Inverness in the face of two horrendous pieces of bad luck turning the game which the team and the fans did not deserve.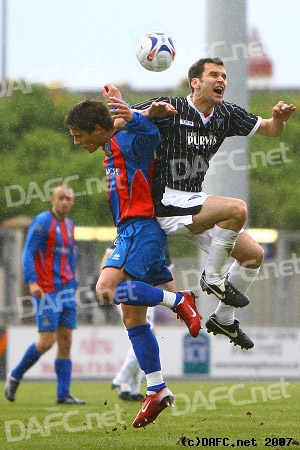 Despite there being an hour and a half to go before kick off it was fantastic to see the number of fans milling around at Inverness in readiness for the next chapter in the "Pars Escape from Relegation".

Continuity of team selection has been a big factor in recent weeks with the only enforced change today being the loss of Scott Wilson who was replaced by Phil McGuire.

The Pars lined up with De Vries in goals. Shields , Bamba, McGuire and Muirhead in defence. Mason and Glass in central mdfield flanked by wingers Hammill and O`Brien.The forward pairing was McIntyre and McManus.

Playing towards the large travelling support the Pars almost got off to the perfect start as McManus almost found Hammill on the edge of the ICT area in the first minute.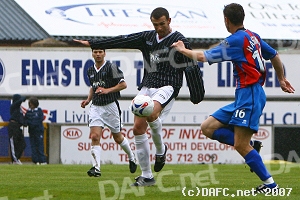 Jim McIntyre scores (1 of 6)
The Pars were well into their stride in this game and in 8 minutes a great surging run by Scott Muirhead after a pass from Hammill saw a dangerous cross eventually cleared by a panicked Inverness defence.

Jim McIntyre then had a good effort into the side net in 12 minutes as the Pars stepped up the pressure.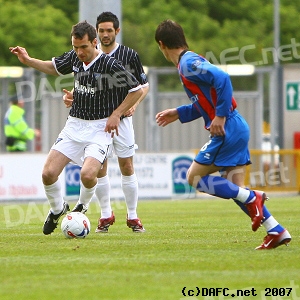 Stephen Glass in action.
Inverness had a shot in 17 minutes which was easily saved by De Vries.

It was then Adam Hammill`s turn in 24 minutes as he put a good effort just over the bar. McManus was then taken out as Inverness continued with their standard strong arm tactics. Despite needing no treatment McManus was still made to go to the touchline, which was bizarre.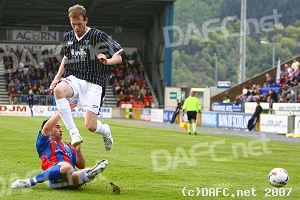 Scott Muirhead in action.
Inverness had a free kick easily saved by De Vries. McIntyre had a good effort lobbed over the bar from a tight angle in 32 minutes. That was followed by a thundering shot by Hammill that the keeper, Fraser, tipped over for a corner.

Then pandemonium erupted at the Pars end as Jim McIntyre found himself alone inside the 18 yard line as he volleyed home into the keepers top left corner for a 1-0 lead. The away stand was literally bouncing as the fans celebrated a great goal.
There was a close thing at the other end in 43 minutes as De Vries was forced into a great save from Inverness. Halftime 0-1.

With the news that St Mirren were getting beat at Motherwell it was all looking rosy for the Pars as they looked to increase their lead which almost happened. Hammill had a quick flick that the keeper just tipped over after some good play by McManus.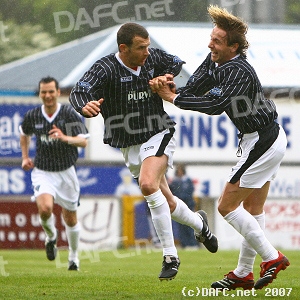 Jim McIntyre scores (3 of 6).




Tokeley was eventually booked for a foul on O`Brien in 49 minutes. Then McManus had a shot saved a minute later.

Dargo had a scissor kick effort that went out for a throw in in 60 minutes as they home side looked for an equaliser. The Pars were sitting back too much at this stage. Paatelinen was replaced by Barry Wilson in 61 minutes for Inverness. Scott Muirhead got the bye line and his low cross was met by McManus but his effort was blocked.



views: 4,653