Jim, (Granda) The Optimistic Pars fan
Author: Peter Lockhart Date: Tuesday, 4th Sep 2007

Granda, real name Jim Watt but to the members of DAFC.net he was simply known as Granda. The name suited him, he was a kindly Granda, the sort who always encouraged you and always had a kind word.
Jim, or Granda, wasn't from Dunfermline. In fact his support of The Pars was unusual. Jim hails from Stonehaven. Often people coming to Dunfermline bring with them a support for either Rangers or Celtic, however Jim bucked that trend. In 1959 he found himself working for GPO telephones in Dunfermline. A colleague suggested he went to see the Pars who at that time were one of the best sides in Scotland. So Jim found himself at East End Park and fell in love with The Pars, that love was to last the rest of his life.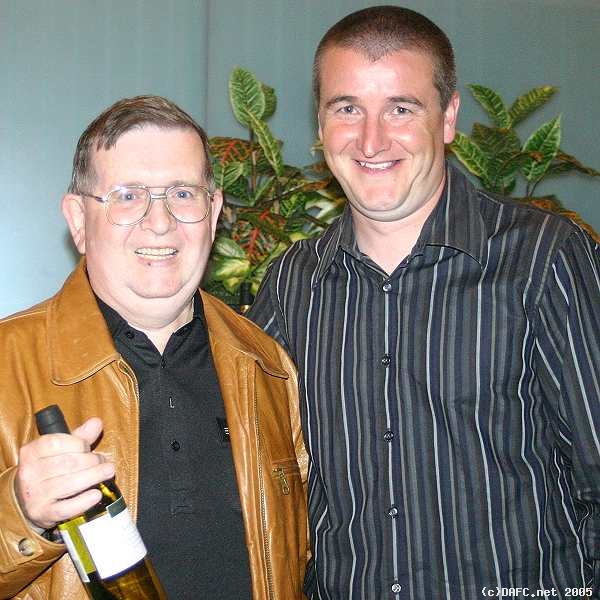 Granda winning a bottle of wine and presented by Club Captain Scott Thomson.




He saw Dunfermline at the top and at the bottom. He saw them winning the Scottish Cup and he saw them when they hit rock bottom in the 70's. He then saw their rise under Jim Leishman, their triumphs under Jimmy Calderwood and of course the disappointment of relegation last season. However win lose or draw, no matter what division we were in or how the team were playing Jim had an unbounded optimism.



He also saw them when they had their European adventures in the 60's and the last time I spoke to him he was like a wee laddie, full of excitement about the forthcoming European trip. He was looking forward to this trip and the (in his own words) "other" trips we'd have in Europe this season. The excitement and the optimism was pure 'Granda'. I don't think the thought of defeat ever entered his mind.



On many occasions I'd speak to him before games and he would gently chastise me if I expected defeat. It was infectious, by the time I was settled in the ground I was, almost, thinking we'd win. Sometimes if I'd posted something negative on DAFC.net he would hunt me out just to "get you cheered up a bit" I didn't see him after the 8-0 defeat to Celtic but I have an image of him finding some silver lining.



Granda on the forums was the same as Granda in the flesh. Friendly, cheery, optimistic and great company. My last full game with him was at the friendly with Dumbarton, the result was good but even if we'd lost I'm sure I'd have left the ground happy, Granda would have made sure of that.



Granda with his wise words, his good humour and his optimism will be sorely missed on DAFC.net. I and many other will miss his good company on match days as well. Going to away games will be that bit sadder.





views: 6,261