Kilmarnock 5 - 1 Dunfermline Athletic
Author: Stephen Taylor Date: Saturday, 2nd Dec 2006

The Pars stumble to an embarrassing defeat 5-1 at Kilmarnock in a match where they did nothing right apart from a tidy finish by Stevie Crawford early in the game.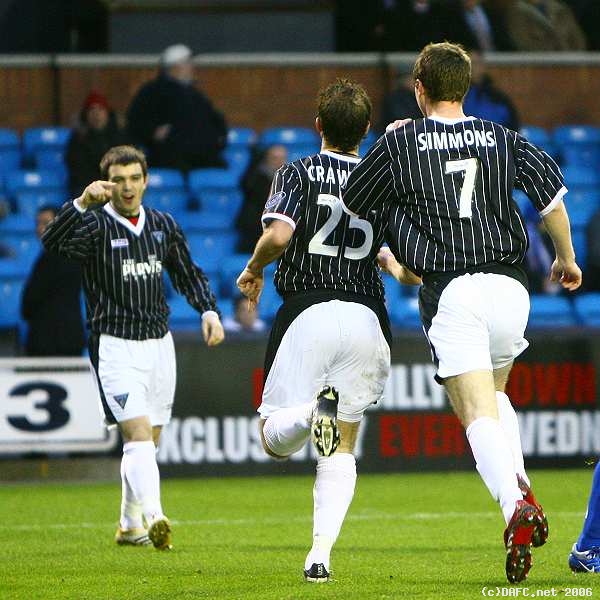 If Stephen Kenny needed a reality check on the quality of the players he has at his disposal, this was it. Anyone looking at this game saw a performance that has become all too typical from this group players. There are too many in this squad that are simply not good enough for this level of football whatever reputations they may have built up elsewhere.

The only saving grace is that there is still an awful long way to go. The SPL championship may been decided already by some but there is no doubt the relegation battle will sort itself out in the final half dozen games of the season as it usually does. But the Pars will have to step up a gear if that prophetic statement is to ring true.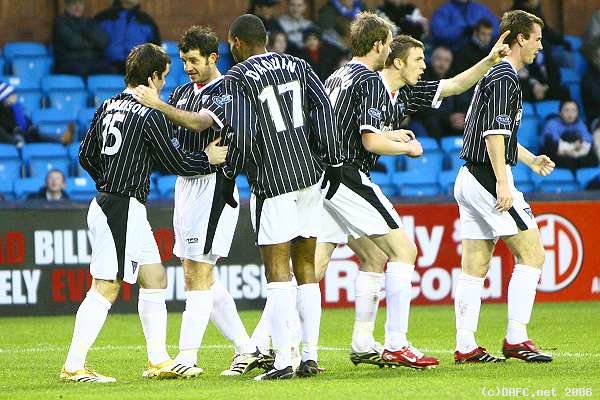 Goal celebrations (3 of 3).
For some reason Aaron Labonte was dropped to the bench with Greg Ross reintroduced at right back. Dorus De Vries continued in goal with Ross, Shields, Wilson and Scott Morrison as the back four. The midfield had Owen Morrison, Mason, Simmons and Muirhead. Stevie Crawford led the attack with Dacquin supporting him.

Killie started pressing from the kick off and despite the Pars winning a corner after 4 minutes it was the home side that took the lead from a corner in 6 minutes. Taken from the Pars left it sailed directly into the net with De Vries stranded looking hopelessly lost.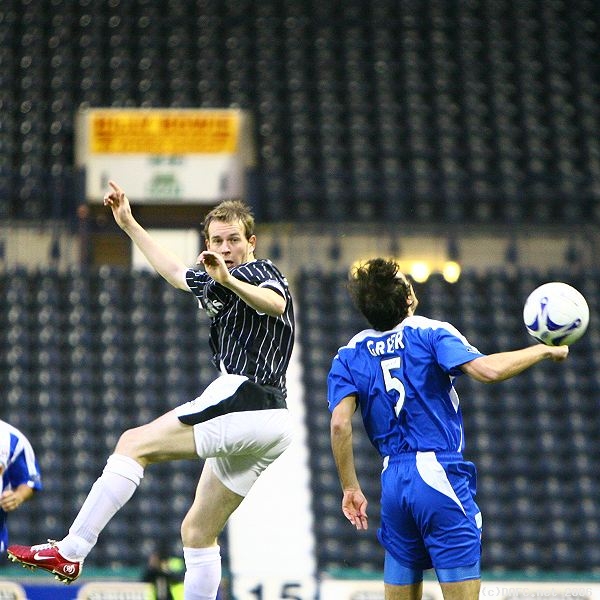 Scott Muirhead v Gordon Greer.
There was a moment of respite in 10 minutes as Stevie Crawford finished a good move after a good run and cross from the left by Dacquin with Simmons knocking it back into the middle for Stevie to score.

Owen Morrison had a run across field befor ehiting a poor shot wide in 14 minutes but the game again turned in 19 minutes as Di Giacomo easily scored after Mason missed a tackle in the 18 yard box allowing Killie to put it on a plate for the scorer.

Muirhead had a run in 22 minutes which ended with a good cross and a resulting corner which was wasted with another of Owen Morrison`s "floated" corners.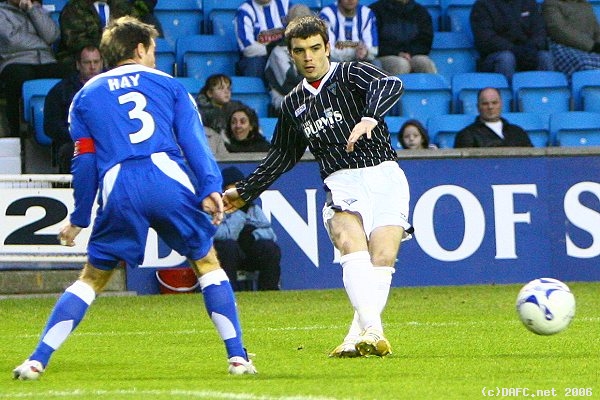 Owen Morrison feeds an inch perfect pass for Stevie
Crawford to equalise.
Di Giacomo got his second goal in 25 minutes as he was allowed to turn and shoot from the edge of the area with his tamely hit shot managing to escape De Vries low into his right hand corner. A couple of minutes later that former Par goal scoring dynamo, Colin Nish, popped up to tap the ball home in a goalmouth scramble. Colin did the decent thing in not celebrating excessively in front of the Pars fans.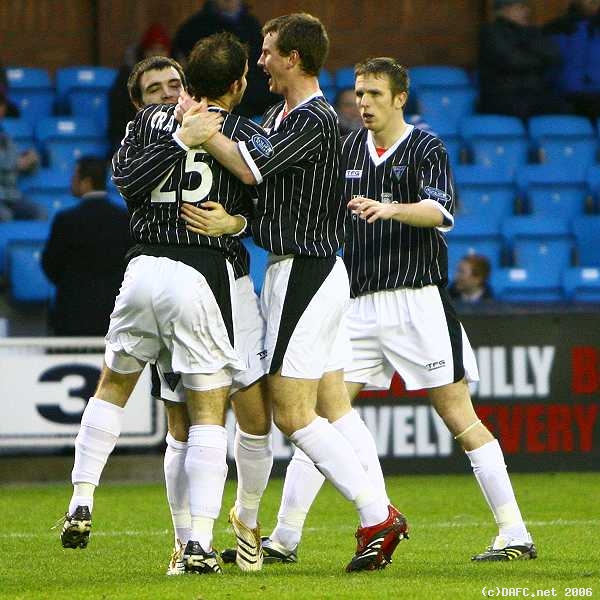 Goal celebrations (2 of 3).
Bamba came on for Dacquin as Stephen Kenny tried to stem the goal rush for the home side. In fact, this worked reasonably well and the big defender, playing in midfield (well, somebody had to play in that area!) had more touches and passes in the time he was on than the rest of his team put together. Half time 4-1.Game Over.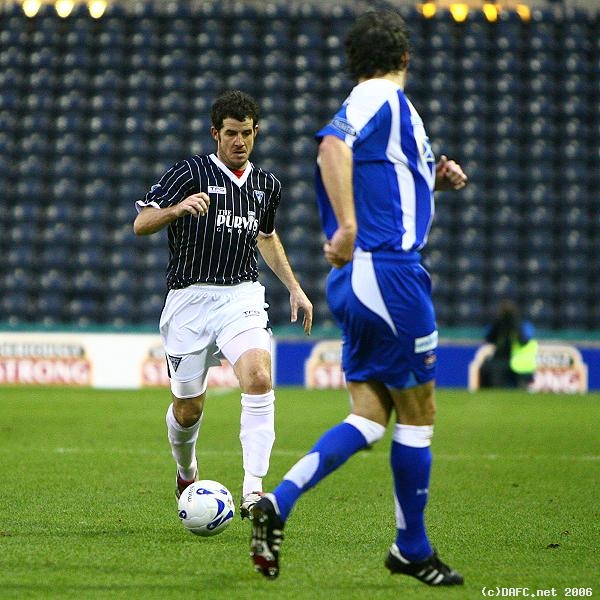 Stevie Crawford in action.
Greg Ross picked up a yellow card early on and shortly afterwards Bamba was sent off for raising his hands against Naismith. Bamba had launched himself into a sliding tackle which appeared to miss but Naismith (who is clearly a fragile little thing, judging by how often he fell over during the game) collapsed in a heap. Bamba clearly took exception to this and there was a bout of handbags at 5 paces. The idiot of a referee, who incidentally gave the Pars nothing all afternoon, decided it was tantamount to attempted murder and the big defender come midfielder was sent off. A complete farce. However, Bamba should have known better.
Related Stories


views: 3,312