Lee Bullen info ?
Date: Saturday, 22nd Oct 2005

A writer is currently working with former Dunfermline player Lee Bullen on a biography of his football career and is looking for information for the book.
Obviously the section covering his time at East End Park will feature prominently in the book and they are devoting a lot of time to covering the main events during his time with the club.

What he is interested in is any specific memories at all that Dunfermline supporters may have of Lee from his time there. These may include particular performances on the pitch (good or bad), goals scored, training ground tales or unusual incidents. Even better would be any off-pitch anecdotes from social functions, community events, presentations or away trips, for example.

Whether they may be first-hand accounts, rumours or personal recollections, anything is welcome as they can go through any contributions with Lee to either clarify the details or jog his memory.

If you think you could help or could pass this on to anyone else who may be interested in offering their thoughts, we would both be extremely grateful, and any significant contributions will be gladly acknowledged in the book.

if you email me any stories (brian@dafc.net) or add them to the story on the message forum we will pass them on.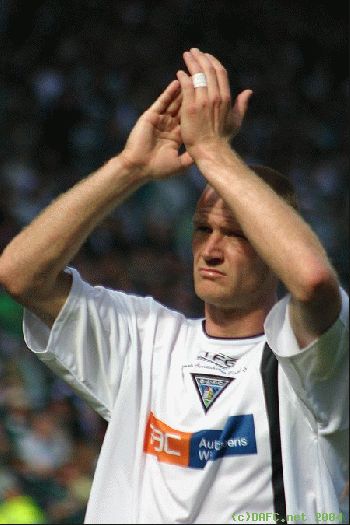 Lee Bullen signs off in the Scottish Cup Final.
Related Stories


views: 3,864