Legends Reunited II a great success
Author: Jason Barber Date: Monday, 10th May 2004

Pars fans, both young and old, turned out in force to pay tribute to legends of an era when Dunfermline won two Scottish Cups and were regulars in Europe. Sir Alex Ferguson started the day off with a video talking about his happy memories of his time at Dunfermline Athletic.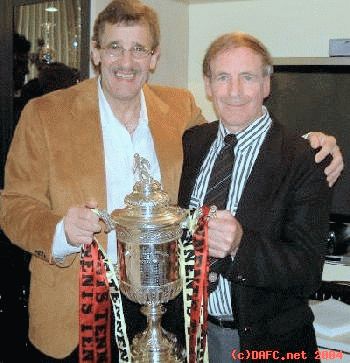 The players were organised into three groups, roughly based around the 1961, 1965 and 1968 cup final squads. Visiting both venues during the day, all the players were interviewed about their time at Dunfermline and a genuine affection for the club was the lasting impression from all of them.

First up in Legends Bar were the 1961 players: George Miller, George Peebles, John Sweeney, Dave Thomson, Dan McLindon, Charlie Dickson and captain Ron Mailer.

Ron brought the Scottish Cup into Legends as he was announced and received a tremendous reception!

The incredible goals total of Charlie Dickson is never likely to be beaten and he too received a rapturous reception.

All the players talked about how Dunfermline, as massive underdogs, managed to fight their way to victory over Celtic after a replay. Dave Thomson and Charlie Dickson scored the goals and were quite modest about how they went about scoring them!

Questions from fans were then welcomed and George Miller raised a laugh when asked about why he always licked his hands before taking a free kick.

"Have you ever tasted marijuana?" was the reply!

The 1961 squad then signed autographs and posed for photographs, whilst their 1968 equivilants did likewise in the Kingdom Suite.

Ron Mailer took the Scottish Cup back down to the boardroom and an informal quiz took place in both lounges.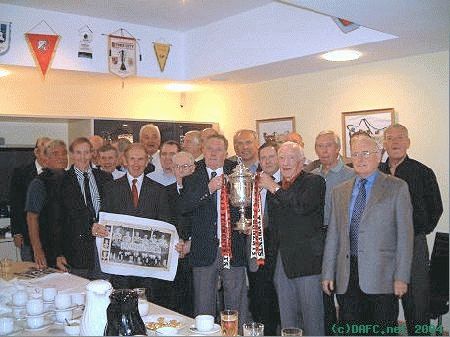 The 1960s Legends Reunited
Next up in Legends Bar were players from the 1968 cup winning era: Goalkeeper Willie Duff, Alex Totten, John McGarty, Pat Gardner, Ian Lister, Willie Renton and Doug Baillie.

Further questions were asked about the memorable cup winners cup win over West Bromwich Albion. George Farm certainly left a lasting impression on some of these players as stories were told of yesteryear!

John McGarty, father of Mark, played in the 1968 cup final after only two previous games at first team level. Goalkeeper Willie Duff informed that his match instructions for that famous win at the Hawthorns were to "kick the ball out the ****ing park!"

Doug Baillie, who went onto become sports editor of the Sunday Post, showed all his after dinner speaking experience as he waxed lyrical about his time at Dunfermline. He ended his career at East End Park but insisted it was the happiest spell of his long and successful playing career.

Ian Lister and Pat Gardner were also modest in describing their contributions to the 68 cup win.

A further round of a quiz was followed by a special presentation in both locations to the clubs all time record goalscorer.

After nine years service at the club, Charlie Dickson was allowed to leave with a whimper back in 1964. A clearly emotional Charlie was overwhelmed at the reception he received in both lounges as Jim Leishman presented him with a crystal award to mark his outstanding goalscoring achievements.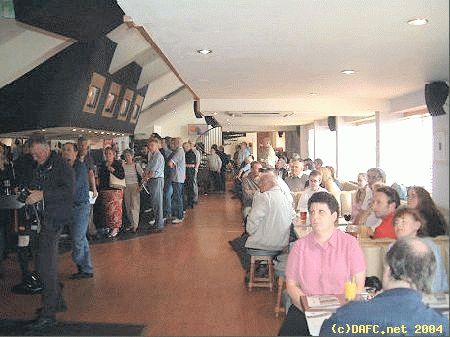 Legends filled up for the day




Last up in Legends Bar were the 1965 era players, whilst 1961 cup winners visited the Kingdom Suite.

Manager Willie Cunningham was joined by players: Harry Melrose, Tom Callaghan, Alex Edwards, Jackie Sinclair, Jim Thomson and Paddy Wilson. Willie Callaghan had also appeared earlier in the day with the group.

These players had come so close to winning the double in 1965, losing the league by only a point and a late goal in the cup final gave the trophy to Celtic.

Alex Edwards was asked about his tag of "the best player never to play for Scotland" Harry Melrose is the second top goalscorer in the clubs history and still attends all matches at East End Park today. However, he never managed to get a bet with Charlie Dickson as to who would score the most goals!

Paddy Wilson, now landlord at the East Port Bar, received a warm welcome into Legends as he talked about his frustration at not being given the chance of having an extended first team run.

Willie Cunningham took some gentle ribbing from the players as to some of his team selections, but it was all good natured!

Again, fans in Legends were given the chance to meet the players and have their photographs taken before raffle prizes were awarded. Tickets for next weeks match against Rangers were won in the Kingdom Suite, whilst Scottish Cup 2004 shirts were won in Legends. The shirts were signed by all the players attending on the day and are sure to be priceless items to those who won them.

Jim Leishman closed the proceedings in Legends, whilst DAFC Chairman John Yorkston did likewise in the Kingdom Suite.

All in all, it was an excellent day with tributes being paid to some of the best players in the clubs long history.

Every single player has been invited along the Scottish Cup Final as a guest of Dunfermline Athletic. On another touching note, the late John Lunn (who was fondly remembered by Alex Ferguson as well as others throughout the day) will have a invitation in his honour going to his son, Rodney.

Some great stories, some great memories and some true Legends on display.

Thank you to all who attended.

(Photos will be added later on Monday)




views: 8,764