Leishman confirmed as Pars caretaker boss!
Author: Jason Barber Date: Tuesday, 3rd May 2005

In a move widely predicted by Pars fans, Jim Leishman will be Dunfermline manager from now until the end of season, returning to the position he last held back in 1990.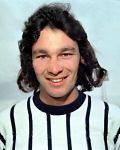 Pars Legend Leish is being given the task of saving Dunfermline from relegation. After months of poor results, the club now finds itself three points adrift at the bottom of the league and apparently sinking fast. With the final home league of the season coming up on Saturday against Dundee, things were looking bleak with no sign of improvement in recent weeks. With that in mind, the Pars board have turned to possibly the only man who could make a positive difference in such trying circumstances, Leish.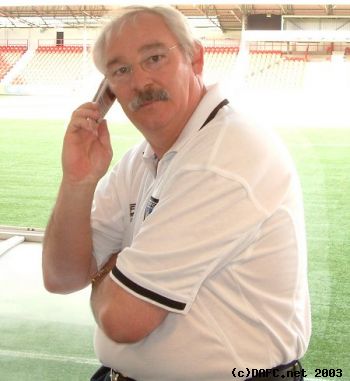 Jim has worked tirelessly behind the scenes in the last 2 years, now he is in the foreground once again
It is a role that Leishman will feel an element of regret about having to take on, having seen Dunfermline fail on the park so often this season. He would much rather, like us all, see the team safely positioned for next season I`m sure. However, needs must and the chips are well and truly down with time (and games) running out.

Anyone who knows Jim will be safe in the knowledge that the man is Dunfermline Athletic through and through. After such a poorly handled early exit back in 1990, many would have turned their backs on the club. Numerous fans to this day have not returned since that departure.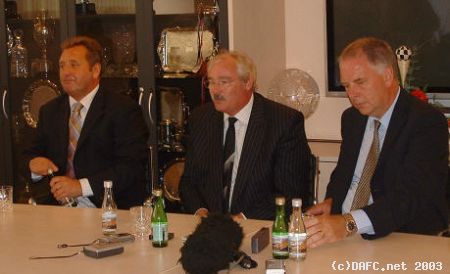 4th August 2003, Leish returns
Leish first signed professional terms with Dunfermline Athletic back in June 1971. A full debut followed in September of the 71/72 season.

Seasons 72/73 and 73/74 saw Leishman establish himself as a first pick in a young Pars side, one that was being rebuilt after the break up of the successful 60s era.

An infamous double leg break suffered after a "tackle" by Jim Jeffries cut short a promising career at an all too early age.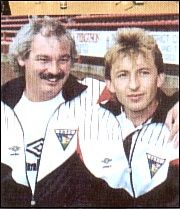 Great times were to follow
Brief attempts were made at a playing comeback, with just a handful of appearances made between 1974 and 1976. His last Pars appearance came during the short lived Spring Cup competition against Hamilton Accies on the 20th of March 1976. Leish was just 22 when he pulled on a Pars jersey for the last time.

A brief attempt to keep playing at Cowdenbeath followed, including a red card on a return to East End Park!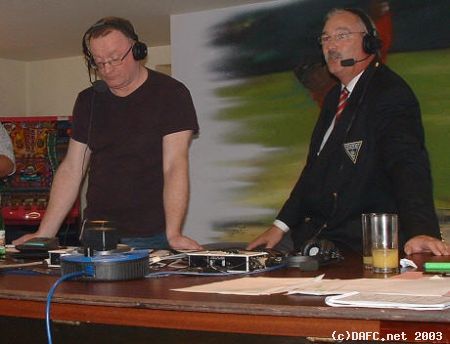 Happy to take on any role at the club
Oakley was the next stop, before stepping into coaching for the first time at Kelty Hearts.

A return to Dunfermline came during the rather gloomy days of the early 1980s. When Tam Forsyth resigned in October 1983, Dunfermline sat in an all time low position in the Scottish game. Relegated the season before, 82/83 got off to a terrible start with only two wins up until Forsyth`s resignation.

The 29 year old reserve team coach, Leishman, took temporary charge of the side and was soon rewarded with the job on a permanent basis.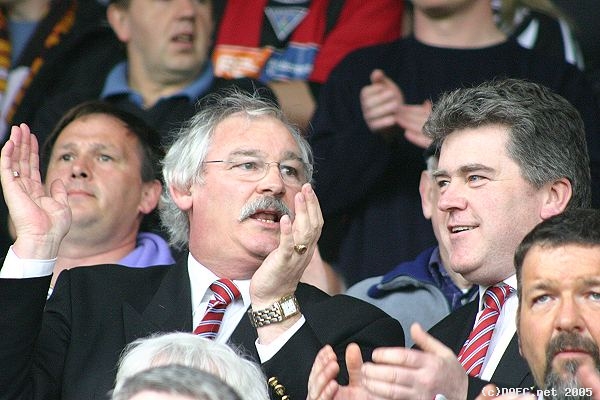 Jim and Rodney Shearer in amongst the fans last Saturday
The club`s fortunes soon turned and Leishman built a side that was soon to storm up the Scottish football ladder. Narrowly missing out on promotion in 1985, the second division title was won in 1986 for the first time in 60 years. Promotion to the Premier league for the first ever time was won just the following season!

Whilst relegation followed, the majority of the squad had played in the second division just two years earlier, the first division title was won after an incredible battle with Falkirk, Clydebank and Airdrie in 1989. Attendances peaked at 12,889 in that first division campaign!

Much coverage has been given in the past regarding Leishman`s exit in 1990, yet here we are 15 years later still hoping he is the man to steer us from impending relegation.

A full match preview will follow ahead of the Dundee game, but in the meantime all that is left to say is best of luck to Leish as he takes over the reigns at such a crucial moment for the club.

Win three points on Saturday, and there will be quite a few thousand people chanting "Leishman, Leishman, give us a wave!"
Related Stories


views: 5,902