Livingston 1 v 1 Dunfermline Athletic
Author: Stephen Taylor Date: Sunday, 19th Aug 2007

The Pars know they are in a tough league fighting to get back into the SPL but incompetent refereeing was not on the agenda. Clearly, these second rate officals are trying to make their name against the "big boys" of the Irn Bru SFL. A disappointing draw at Almondvale 1-1.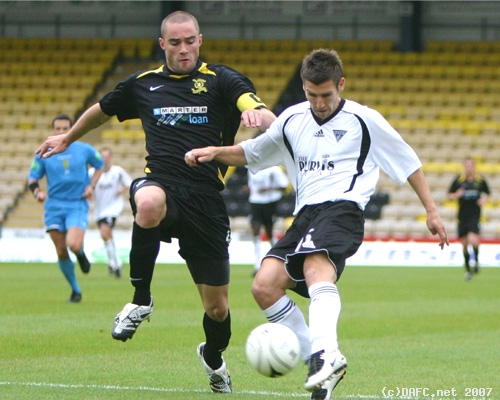 With Roddy McKenzie missing through injury Sean Murdoch deservedly kept his place in the team and repaid his manager with a good performance. The back four had Shields, Wilson, Bamba and Scott Morrison. The midfield had Simmons. Young and Owen Morrison. This left Kevin Harper linking with Crawford and McManus.

With a good away support behind the team the Pars started well although it was Murdoch that had to make a good save to stop a shot in 2 minutes. Livi`s McCaffrey panics in 6 minutes and clears for a corner which the keeper, Liberda tips over the bar for a second corner for the Pars.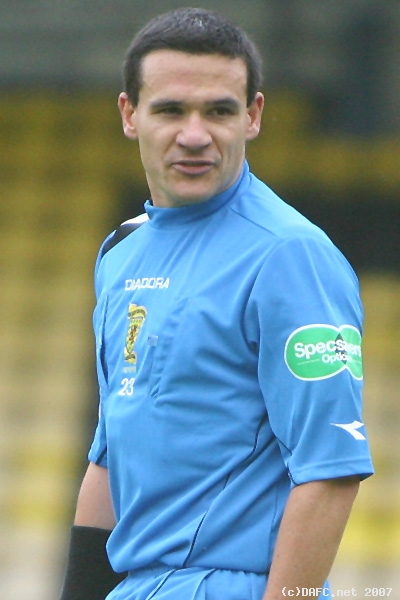 Chris Boyle. Pars v Livingston 19th August 2007.
Harper sends over a good ball after some good play with Shields in 6 minutes.

Once again an early feature is Bamba making some good interceptions and clearing headers, this guy is clearly too good for this level of football. In 17 minutes Wilson heads over for a corner from a dangerous cross. Harper clears the corner by giving away another corner to Livi.

Harper then makes a good break at the other end resulting in a corner for the Pars in 19 minutes.

The Pars then lost McManus who had done little by that stage through injury with Hamilton replacing him in 25 minutes.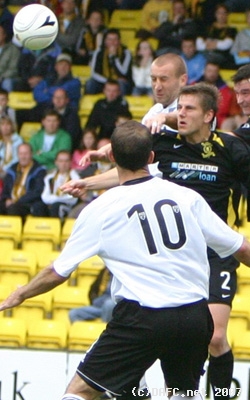 Jim Hamilton wins this header.
A good move with Crawford, Shields and Owen Morrison saw a header by Hamilton go wide in 35 minutes. It was clear by this stage this was the poorest opposition the Pars had come across in this division but there was still the lack of a cutting edge.

Livi were forced into an early change as James replaced McCaffrey through injury in 37 minutes. This seemed to herald a period of stoppages as players went down and play was broken up.

Another good play with Crawford and Harper resulted in a corner for the Pars in 42 minutes.

There was then a big shout for a penalty as Bamba was clearly fouled inside the area as he drove forward to shoot. The referee inexplicably gave the foul but right on the edge of the area. He had simply bottled it clearly not being sure. As did the linesman who had a good view as the Pars fans did. Hamilton took the free kick early which came off the wall then he was booked for taking the kick without the ref`s whistle. Absolutely ridiculous! The free kick was taken again and Shields should have stuck the rebound away but put it over. The Pars fans were in full voice "You don`t know what you`re doing" and they were right. Half time 0-0.
Kevin Harper in action.
Livi came out early and were kept waiting for three minutes as the Pars came out on time. Bamba makes a couple of early interceptions. Morrison hits a good free kick after Harper had been fouled in 51 minutes.

Jim Hamilton floors the referee in 54 minutes with a pass which sets up Livi for an attack but the shot went over the bar. Hamilton had a good chance getting onto the end of a long ball but takes too long to get under control and get his shot in. Bamba picks up a yellow card after a deemed foul, does the referee not realise this is meant to be a physical game?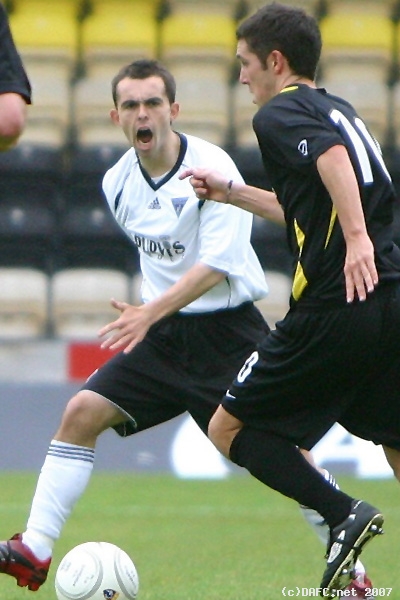 Nick Phinn in action.
Another change for the Pars as the ineffective Simmons goes off and Phinn comes on. The Pars youngster makes a quick impression and does more in the first 5 minutes than Simmons did all afternoon. He passed the ball forward and looked to get the midfield moving forward instead of sideways.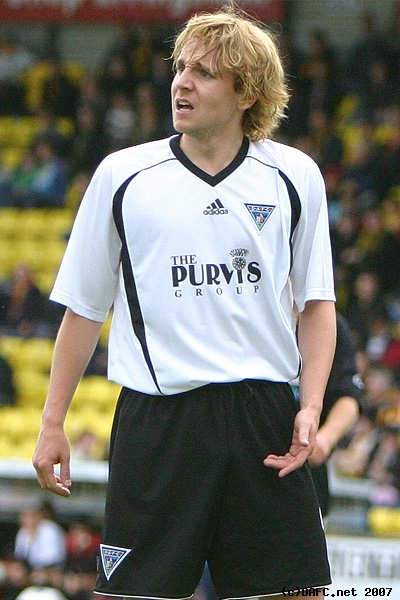 Tam McManus. Pars v Livinston 19th August 2007.




In 63 minutes Morrison has a shot after a good move then Crawford does likewise in 64 minutes but hits over the bar.

It was the last thing Crawford did as Burchill comes on in 65 minutes.

In 75 minutes Livi beat the offside trap although it was only because the linesman missed it barely keeping up with play but Murdoch saves well. At this stage, it looked as if this game had Nil Nil written all over it with Livi hopeless and the Pars toothless.




views: 4,994