Martin Hardie and Kevin Rutkiewicz reunited
Date: Thursday, 15th Nov 2018

Ex-Dunfermline players Martin Hardie and Kevin Rutkiewicz have joined forces once again – but, this time, off the pitch. The duo were team-mates at St Johnstone, the Pars, as well as Greenock Morton and now the pair have joined up together at League Two club Stirling Albion, following the sacking of Dave Mackay.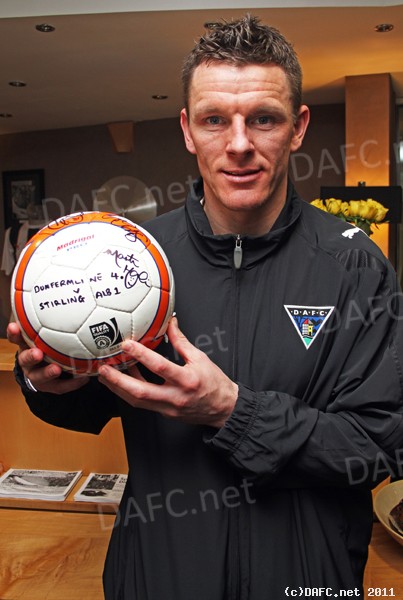 Hardie, who always planned to go into coaching, is delighted to be linking up with former team-mate Kevin Rutkiewicz in the Forthbank dugout.

"I started doing my coaching badges while at St Johnstone; since retiring from playing football, I went into Partick Thistle as Assistant Manager to Scott MacKenzie – manager of the Under-20's at Firhill. I then went to St Mirren's Academy, which was initially Under-17's but that changed to Under-18's this year due to Project Brave.
Since the age of 30, myself and Kevin began travelling together and we had a great bond. We have went on a slightly different journey in the past few years in our own respects, but, it was always in the plan that if one of us became a manager, then the other one would likely be the assistant.

With Kevin having the League 2 experience, it will bode well for us now that we have got the job: ironically, when Kevin was offered the job, I was actually at my son's christening, and he then asked me if I would come in and join him and right away, my answer was yes. I am delighted to tie up with someone I am close with."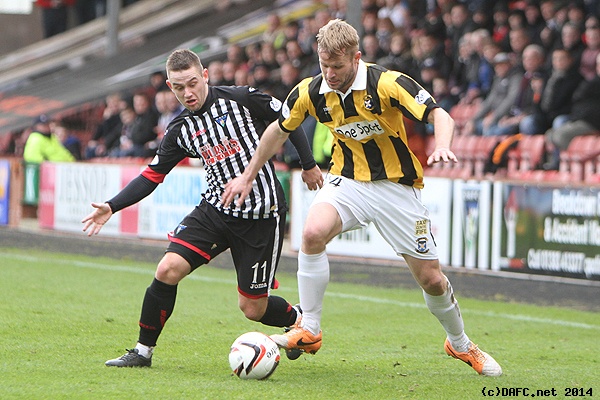 3 weeks into their partnership and Hardie is excited by the progress the Binos are making.

"The transition has been good. There's been a lot of familiar faces around the club and we know we have a good group of guys to work with. Our first week was quite hectic – which most weeks are – but, we are getting into the routine and hopefully everything will start falling into place soon. We have a couple of injuries which will enhance the squad once they are back fit; we are just looking to build on the positive results we have picked up against Berwick and Clyde.

It is quite early into our reign with Stirling, so, it is hard to change a lot of things around in such a short space of time. We couldn't do much for the Edinburgh City match as we had only just arrived through the door and had one training session whereas we had a full week heading into the Berwick match and I feel that showed with the convincing score-line (albeit, it could and should have been a lot more than 3-0!)"


Experienced pro's such as Peter MacDonald and Kevin Monn emphasise the calibre of player at the former St Johnstone duo's disposal.

"Myself and Kevin were team-mates with these guys at Saints and I also know Neil McLaughlin from his time with Partick Thistle, too. Dominic Docherty was there too, while Darren Barr and Mark Stewart are with us too who we have came up against in the past and we know the qualities they have and can provide us this season. We would've liked to have thought we could have got a point against Edinburgh City as that would've been a good result for us, but, it wasn't to be. We were aggressive as a squad going forward recently, though, and have been aggressive in our pressing as well. I think we have shown signs of improvement which is encouraging, but, we can still do more overall."

Play-Off contenders Clyde were last week's opponents while Albion travel to Annan Athletic on Saturday – another side battling for a top-four finish.
"If we can pick up points then that'd be great. It is an old cliché, one game at a time… it is up to us to go and make a mark on the match – we need to put ourselves into a position where we can take something out of the match. We know it is going to be another really difficult match, our second away journey in a row, so, we have tried to get the players into the right mindset to try help us gain the result we are looking for."

For Hardie personally, he feels this is a great opportunity for him to kick on with his coaching career, with the League Two side.

"The only difference I would say is that they players are now older: the guys at Under-17's level were taking your sessions where you were trying to make them learn and help them achieve; that is no different with senior professionals – the work-rate, attitude and the principle of your training schedule is just the same whatever level of the game you are at. The only slight difference is experience and game-management which could be better. We have guys in their 30's, so, they will be able to see more about the match and that can help on the pitch as at youth level, you are coaching the players from the side a little more.

Any player that retires and then goes into the coaching route, first and foremost, they want to become a better coach or manager as well as passing on your game-knowledge to the next batch of players coming through. I feel it is imperative that your practise what you preach: what you have learned from your career, you must pass that on to every player you work with, no matter what age they are or what experiences they have. If you balance up League Two to the Championship, for example, I think the main difference is players can become accustomed to playing at a part-time level, so, fitness is definitely one area which there's small differences in, but, there is still a host of quality within this division; we feel there are young players at the club who, given time and under our guidance, can go on to bigger and better things."

Hardie is cautious to look too far ahead and is only willing to focus on improving the club's form in the short-term.

"For Kevin and I, it is just about continuity and trying to get the best out of the players as we can, at this time. We have a lot of games coming up that we feel we can pick up points in. if we can accumulate a good number of points, particularly at home, then, that will give us the chance to climb the table. There is a lot of hard-work to do on the training field in the coming weeks and we just hope that come the latter end of the campaign, we are in the top-half of the table as that'll give us an opportunity to try and get into the top four come May. Ultimately, at this moment in time, we are just in the door, so, we can only take it one game at time; working hard with the players to help them understand what we are looking for and needing from them."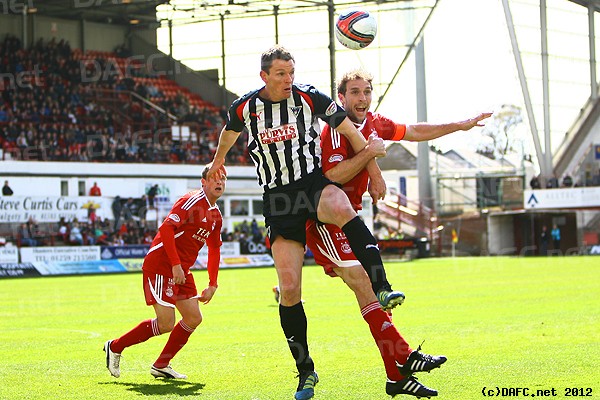 views: 3,233