Pars Manager shortlist
Author: Brian Duncan Date: Tuesday, 31st Oct 2006

Progress on choosing a new manager is well underway with 3 candidates currently being looked at by the board at DAFC.
After the Board meeting on Monday evening the list of over 15 possible candidates was whittled down to 3. However, it will be Friday at the earliest before any candidate will be decided on or perhaps later than this.

It is not clear who the three candidates are or whether they will be named. Its likely their names will be kept under wraps, despite the many names being bandied about on the forum.

The DAFC board have decided not to rush into things and will be taking their time to make sure they have the right candidate in place.

Craig Roberston will still be in charge for this Saturday`s home game against Falkirk.


Last week Dunfermline spoke to Craig Levein and covered some points about whether he would likely be interested in the Dunfermline Managers job, but its not known whether money would have been an issue. That issue is now academic as Craig Levein has now taken the vacant job at Dundee United.

Its not known if Brewster is on this short list.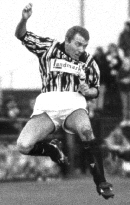 Craig Robertson




Hopefully we will have someone in place shortly, but the board should be given some time. The place for finding out is not the DAFC.net forum due to the large variety of rumours and speculation, which is only helping to frequently crash the server.



views: 4,032