Pars Superstore now open
Author: Brian Duncan Date: Tuesday, 26th Nov 2002

As part of the ongoing developments at DAFC – the new Club Superstore has now been opened within the Kingsgate Centre in Dunfermline.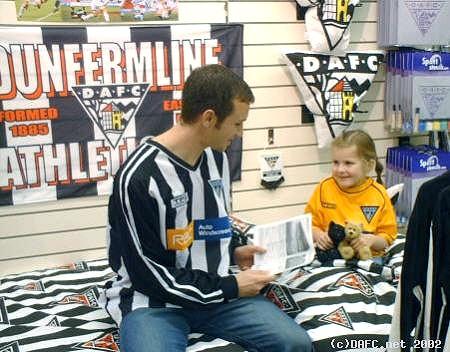 With over three times the retail space – the new Superstore has a much wider range of goods for PARS supporters. New products include ladies, mens and kids watches, a much wider range of ladies, mens and kids casual wear, black & white wigs, face paints, stencil kits, flags and jester hats to make your presence felt at East End Park and we now even have DAFC chocolate.



Of course with Xmas fast approaching you can be sure to find that unusual gift for the Pars fan in your family.

'After feedback from fans it was clear there was a demand for a much wider product range than we were offering and which we had space to provide. We decided that by moving to the Kingsgate it would give us a much more visible presence within the Town Centre along with much needed extra floor space.

I am really pleased with our new shop and hope that the fans will show their support of this venture by buying 'official DAFC' goods from here.' Commented John Yorkston,Chairman.

The shop will be open 9-5.30 Monday – Saturday and will be opening on Sunday's in December between 12-4.

For further information or any queries please contact:

Tracey Martin or Karen McNeill on 01383 724295.



Related Stories


views: 3,195