Pars travel to Inverness as games start running out....
Author: Jason Barber Date: Wednesday, 14th Mar 2007

With eight games remaining, Dunfermline are still nine points behind The Buddies who sit in the safety of eleventh place. Three games remain before the all exciting "split" and Dunfermline travel up the A9 to take on Inverness Caledonian Thistle this weekend, a team we've never beaten in the SPL………
If Dunfermline were ever going to break their winning duck against ICT, Saturday might be a rather good time to finally do it. After three seasons of trying, a victory at the weekend would close that yawning gap at the bottom of the league to six points, somewhat ironically putting slight pressure onto St. Mirren after Dunfermline failed to capitalise on their huge opportunity against them at East End Park last weekend.
Mark Burchill and Jim McIntyre both made substitute comebacks in that 0-0 draw, and Burchill continued his return from injury with a goal against Hibs reserves during the week. Burchill could yet find himself as the saviour this season if he managed to bag a few goals during the next eight matches, something that has eluded him all season and his team mates for most of the same period. Whilst Dunfermline's defence racked up a clean sheet against St. Mirren, Scott Wilson (not for the first time) pointed out that our defensive record was not the reason the club is in the position it is in, the lack of goals has simply been horrendous with that recent barren run of nine games without a goal the worst example.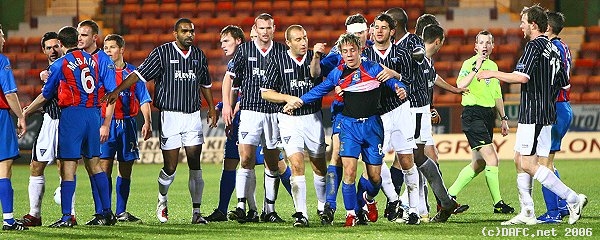 Ian Black upsetting everyone on 23rd December
The last time Dunfermline scored more than one SPL goal in a game was during out last victory, the 2-1 win over Dundee United way back on the 18th November which saw Craig Robertson hand over to the watching Stephen Kenny on his first visit to see his new team. Since then, a measly three consolation goals and an equilising penalty against Kilmarnock are the only goals that have been enjoyed by the team and the support, a simply embarrassing statistic.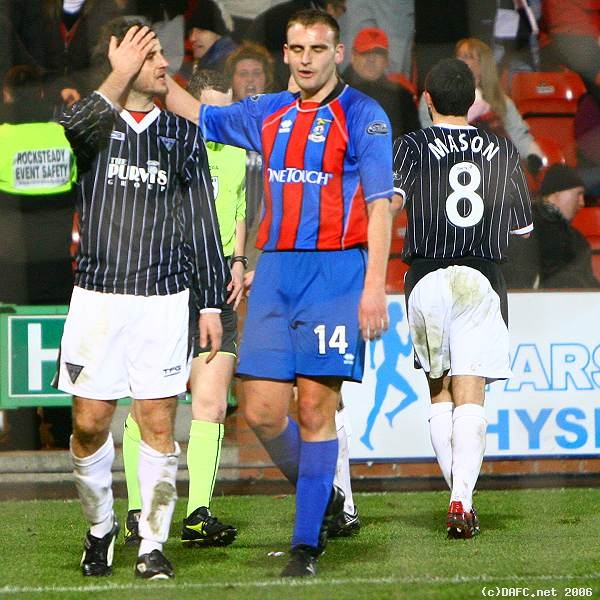 Craw was sent off when teams last met
Stevie Crawford remains the top scorer in the SPL with five goals. Gary Mason and Stephen Simmons each have two apiece, the only other players in the entire squad with more than one league goal to their names. No matter who people apportion blame to, and it is a regular Scottish trait that someone somewhere must be solely to blame, these figures are the root of the club's problems. Is it the lack of service from midfield that is the problem? In my opinion yes it is, though Stephen Kenny has tried to resolve this with the addition of flying wingers Hammill and O'Brien, the lack of a through ball or decisive pass from the midfield is STILL a problem as it has been for far too long.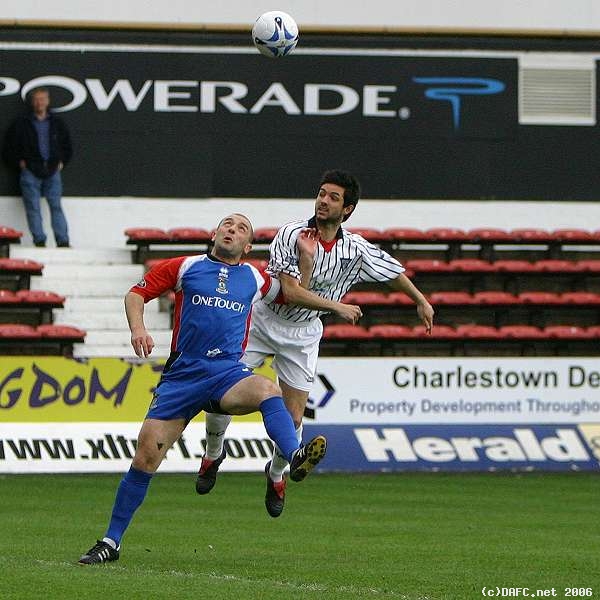 Gary Mason v Stuart Golabek.




Our lacklustre midfield has continued to be exposed throughout the season, with a distinct lack of spark or energy to dominate that area of the park and give our front men something other than one or two scraps per game to work with. Despite being up against a poor, though clearly not as poor as our own, team last week, Dunfermline's clear cut chances amounted to a cross ball for Jim Hamilton to see Smith make a great save, and a deflected free kick from Stephen Glass produce another excellent save.

So, out of somewhere, Dunfermline have to quickly find the solution to this ongoing long term problem unless trips to New Douglas Park and Forthbank are to be the "new" and exciting venues on the agenda next season. Stranger things have happened, but the team are certainly leaving it late to find their shooting boots which are clearly missing and have been for months.



views: 4,002