Partick Thistle 1 - 4 Dunfermline Athletic
Author: Alistair Campbell Date: Saturday, 23rd Jan 2010

I didn't see this coming at all at half-time; after Dunfermline had dominated the first half without forcing Tuffey to make a save, I expected the classic sucker punch. Buchanan did score, but only after the Pars had run riot with Joe Cardle scoring a fabulous hat-trick.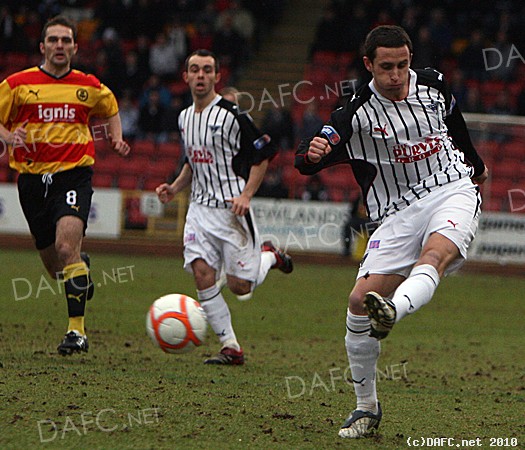 No surprises in the starting line-up – Fleming kept his place, as did the 10 out-field players – the only change being on the bench where Burke came in at the expense of Holmes. So just to recap, we were (back to front, and right to left) Fleming; Ross, McGregor, Dowie and McCann, Gibson, Bell, Phinn and Graham; McDougall and Kirk. There was plenty of Pars interest in the Thistle squad – Bryn Halliwell was sub-keeper, Simon Donnelly started up front, and there was an initial cheer for Greg Shields who was sporting the number 4 yellow and red hooped jersey, but playing right back.


It took all of 8 seconds for Shields to be called into action, heading away a forward punt, and after Conroy had got in a couple of crosses from the left touchline, the game settled into a pattern – Pars pressure, but no clear-cut chances. That's not to say there weren't close things – McDougall got the better of Maxwell in 4 minutes, but his run and shot from the edge of the area was blocked with a suspicion of handball, and Graham collected McGregor's fierce cross-field pass in 9 minutes, but his shot was deflected past the far post. Then a minute later Gibson got the ball to Phinn in a central position, but Nick's attempt to place the ball in the corner was also blocked.


The Pars had plenty of corners, with Gibson taking them from both sides, either driving them to the front post, or hitting them high to the back post, but there simply isn't enough height in the Pars team for this to be effective, and time and again Thistle cleared. Gibson even tried to steal a couple of inches by placing a ball marginally outside the quadrant, but the clypes in the Jackie Husband stand managed to bring this outrage to referee Finnie's attention and Willie had to respot, but not before a sly gesture to the home fans.

However, the Jags rode out the pressure undamaged, and the second quarter was more even. McGregor was strong enough and fast enough to beat Conway to the ball in 22 minutes and shepherd the ball back to Fleming, and after Kirk had just failed to connect with a Phinn cross, Corcoran twisted to gain enough space for a shooting chance but Ross and Dowie combined to block. Not much else in the first half – no stoppages, and although the Pars were 8-1 up on corners, neither keeper had yet made a save. Fortunately this was soon to change...

Half Time: Jags 0 Pars 0


The two changes at half-time – Lovell for Conroy and Cardle for the injured McDougall -presaged a thrilling start to the second period. Graham moved up front for the Pars, and Corcoran moved back into left mid-field for Thistle, who gained an early corner when Ross was forced to boot a dangerous- looking cross out. The Pars broke through Gibson and although nothing would open for him he found Cardle to keep the move going. The ball was switched to Graham, who cut back onto his left foot to shoot, beating Tuffey only to see Shields appear from nowhere to head clear. The pressure was maintained, Kirk lined up a shot which was blocked, the ball falling to Ross on the right who fired in a cross that found Cardle beyond the back-post – Joe cut onto his right and drilled home from 8 yards.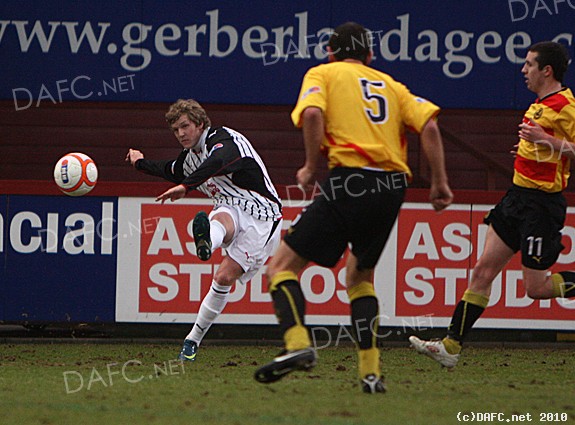 Gibson fires in a cross
Thistle nearly squared things immediately, when Corcoran's cross looped just over the bar with Fleming back-pedalling furiously, but the Pars survived, and came looking for a second. From another Thistle corner the Pars cleared, Graham outpaced Paton to the ball, bore down on goal, but Tuffey narrowed the angle and blocked with his feet. Six minutes later Graham cut onto his left to set up another chance, which Tuffey grabbed at the second time of asking.

Diego McCall made his second change, introducing Buchanan for Donnelly in 55 minutes and almost immediately the former Cowden sharp-shooter sprung the off-side trap only to shoot straight at Fleming from a bad angle when a cut-back was the better option. The game had opened up – two minutes later Kirk nearly managed to finish a move that he had started, but the ball got stuck in his feet and he squeezed his effort from 12 yards wide. In 61 minutes the same player looked to be through but Shields raced across from right-back to cover, only to mis-time his tackle. It looked a sore one for Andy, but Greg isn't a malicious player (although he still picked up a yellow). Gibson took the free-kick from 19 yards, but some late swerve took the ball onto the outside of the post and behind.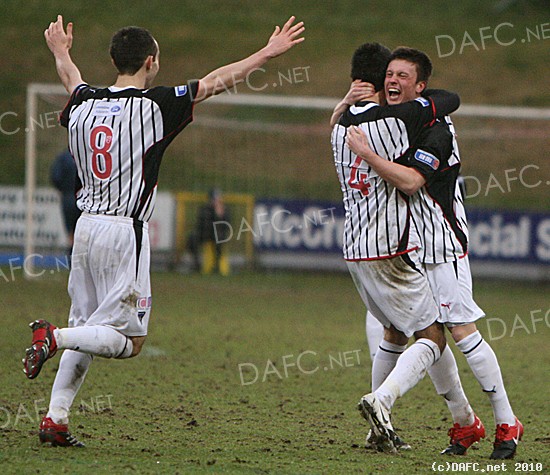 Pars go 1-0 up




Things were beginning to warm up on the park, if not off it, and Buchanan missed a real chance to level in 65 minutes – Lovell looked to be off-side when receiving the pass and as Fleming rushed from his line to block, the ball spun to his strike partner who planted his shot into the side netting.
Back came the Pars, and some marvellous skill from Cardle took him outside Shields to the bye-line where he cut the ball back to Phinn but Nick's shot seemed to come off the outside of his boot and skewed past the upright.





views: 8,706