Petrie forum a success at East End Park
Author: Jason Barber Date: Saturday, 11th Jan 2003

The evening was a great success with plenty of stories about the "old days" from the likes of Dick Campbell, John Watson and Graeme Robertson.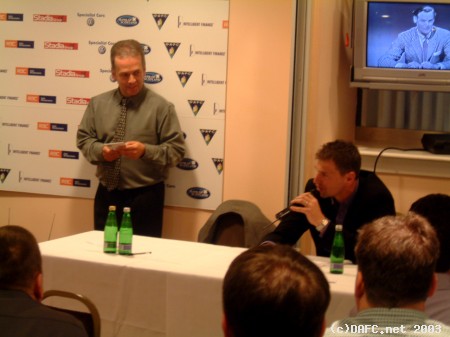 Stewart Petrie was the guest of honour in aid of his testimonial season. He and his wife just managed to attend the event after flying back in from holiday!

The panel, featuring Dick Campbell, John Watson, Graeme Robertson, Drew Fleming (Referee supervisor) and John Mason (journalist) were given questions from the floor by the Centenary Club`s Peter McAteer.

Many areas were covered, from reviewing John Watson`s favourite goal to the price of football today. Stewart Petrie certainly raised his chairman`s eyebrows when he suggested prices could still be a little lower!

There was also a quiz based on Stewart`s career to date. Perhaps it was no surprise, but a certain Mrs Petrie showed the most knowledge on that one, but generously donated her prize to the second placed entry!

A raffle was held at half time which raised over £300 on the night, signed Dunfermline footballs and tops were given out as prizes. Special mention also to the catering department who provided excellent stovies during the break!

All in all, the evening was deemed a great success and the format proved successful. Hopefully, similar evenings can be held in the future.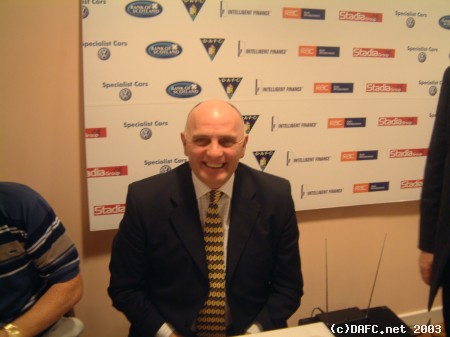 Ex Pars boss Dick Campbell was in fine form!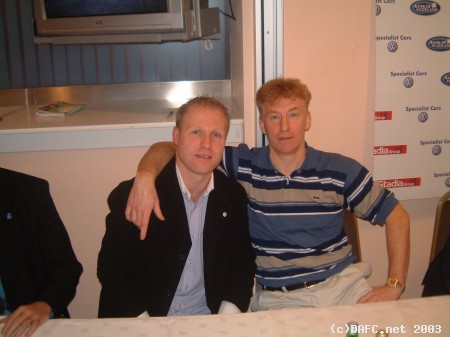 Ex-Pars Graeme Robertson & John Watson on panel
Related Stories


views: 3,691