Pitch progress as at 21st July 2005
Author: Jason Barber Date: Thursday, 21st Jul 2005

East End Park resembles a quarry at the moment, with nothing but tarmac and type 1 stone to show on the playing surface!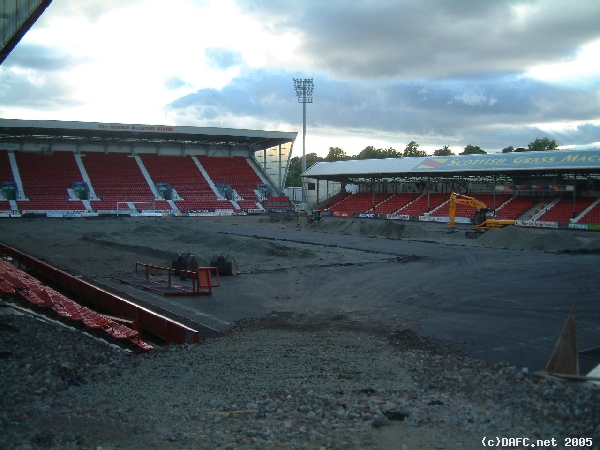 Photos taken on Thursday 21st July show the extent of the work in hand.

The old artificial tiles are safely stored at the away end of the ground, however it did not stop one punter apparently driving to the ground today and walking away with one tile. Someone wore a high vis vest and simply strolled in and helped himself!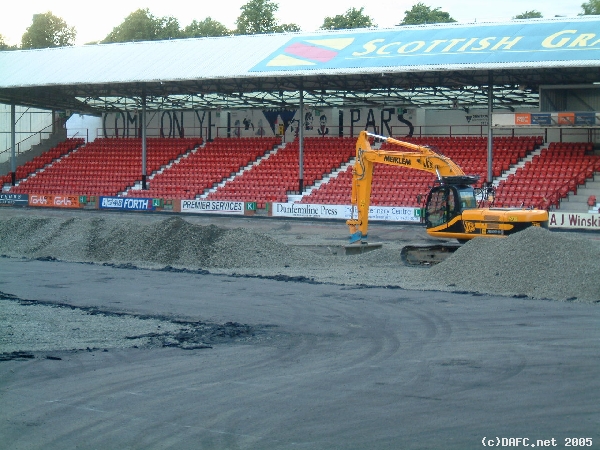 North stand mural can be seen here
The tarmac is now nearly all broken up and the netting removed from underneath it.

Large piles of type 1 stone are everywhere to be seen, the sheer quantity worth a fortune to anyone in the quarry/building business.
It does not look anything like a football ground, with the stands overlooking an absolute mess. Amazing to think that in just over three weeks time, a SPL match will be played here against Inverness Caley Thistle. The clock is ticking and the companies involved are going to be racing against time to have the new turf laid and playable for the 13th of August.
The SPL know best though, and no expense is being spared to have a pitch ready in time.

With the players currently in Italy, they have know taken part in their last training session at East End Park for the foreseeable future.
The lush surface that is expected to arrive shortly will play host to Dunfermline v Craig Brewster`s Caley Thistle on the 13th of August, here`s hoping it is ready in time........
View of the main stand 21st July 05




views: 3,602