Player ratings against Dundee United
Author: Jason Barber Date: Thursday, 5th Dec 2002

Here is a personal view as to how the players performed last night after yet another excellent victory.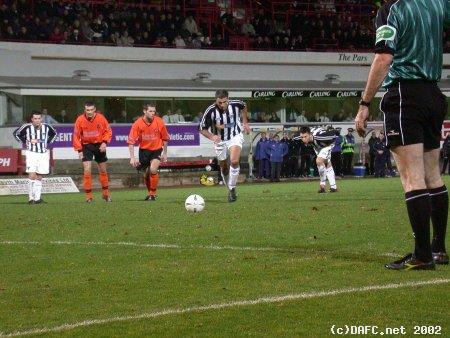 Derek Stillie: Superb performance. Looked assured at all times, held the ball firmly and kept us in the game early on. No chance for their goal. 9/10
Lee Bullen: Played too deep last night, when his strengths are clearly further up the park. Frustrating for the big guy! 6/10
Scott Wilson: Proved his class yet again. Easy to take him for granted! 8/10
Andrius Skerla: Similar to Wilson, the guy is top quality. Always first to the ball to clear United through balls. 9/10
Scott Walker: Played in more traditional role. Scored second goal of the season! 8/10
Jason Dair: Not allowed to dictate play as he has recently. Was subbed in second half. 6/10
Barry Nicholson: Covered the whole park. Another goal for Barry who is reaching high levels of consistency now. Main midfielder for us, scored with another deflected effort! 8/10
Scott Thomson: Looked slightly out of sorts in midfield role, second half especially. Did fine job on Miller in first half. 7/10
Sean Kilgannon: Return for the pacy youngster saw him skin the United defence a good few times and play some cracking crosses into the box, rarely anyone there to take advantage! Good performance. 7/10
Craig Brewster: Top drawer! Two goals, unlucky with two other chances to score. Passed well, held the ball up well. Tremendous! 10/10
Stevie Crawford: Quiet night for top scorer who was closely marked at all times. Might need a new shirt as his was pulled so often during the game.... 6/10

Subs used:
Gary Dempsey: Battered yet again after only coming on a few minutes earlier. Had to go off with his face looking worse for wear.
Chris McGroarty: Replaced Kilgannon in straight swap. Had a good 10 minutes which saw him pretty involved. Won a header too, not bad for a guy his size!
Stevie Hampshire: Subbed the sub (Dempsey) did not get the time to be involved with the game.
Related Stories


views: 4,196