Scott Thomson testimonial details launched!
Author: Jason Barber Date: Wednesday, 9th May 2007

Having been with the club for nearly ten years, club captain Scott Thomson is about to be awarded a testimonial season. Highlights include Dunfermline Athletic`s first ever match against English champions Manchester United!
The Scott Thomson testimonial year will commence on the 1st of June 2007, and there will be plenty of events to mark the occasion. Full details will be available on the new website www.scottthomson.net which is already up and running.

There will be a sportsman`s dinner later this year, along with other events yet to be confirmed.

However, the biggest event of the year promises to be a testimonial match played against a Manchester United XI on Wednesday the 8th August at East End Park! Watch this space for more details nearer the time.

A testimonial committee has been formed for the year, and they can be contacted regarding events, sponsorship, the match etc. Former Pars chairman Roy Woodrow is the head of the commitee, joined by the likes of former managers Bert Paton and Dick Campbell.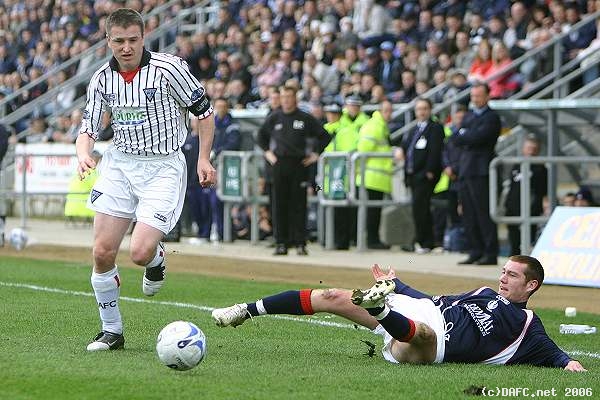 Scott Thomson in action
More details will be made public as they are confirmed, but keep the 8th of August free in your diary for now as Manchester United head North for their first ever match against Dunfermline Athletic!

Manchester United will be sending two teams out on duty that evening, with one playing in Ireland and the other coming to Dunfermline. However, Sir Alex Ferguson has confirmed that he will be coming to the match at East End Park, along with at least some of the "superstars" who have just won the English title. Names will be confirmed much nearer the time of course.....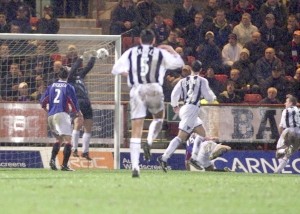 Nipper putting Pars 2-0 up against Rangers
Scott Thomson has been with the Pars since being signed by Bert Paton from the Wee Team back in 1998. Since then, he has played just about every single position in the side (with the exception of goalkeeper) to date. Dick Campbell was the next manager to play Scott in the side, though it was under Jimmy Calderwood that "Nipper" became a stalwart in the team.
Celebrating a win at Falkirk December 05




Since Ian Ferguson retired at the end of the 2001/2002 season, Nipper has worn the captain`s armband having previously served as Ferguson`s number two.

Nearly 250 games for the first team later, Scott is now back at full fitness and playing for the reserves in his attempt to get back into the first team having suffered from an ankle injury for the past season. Having played under Paton, Campbell, Calderwood, Davie Hay and Jim Leishman, Nipper now intends to make his debut under Stephen Kenny and continue his Pars career into its tenth year.




views: 6,774