Skerla`s praise for boss Jimmy
Author: Michael Ross Date: Sunday, 12th Jan 2003

Pars star defender Andrius Skerla rates current boss Jimmy Calderwood alongside the likes of some of the worlds best Bobby Robson and Dick Advocaat.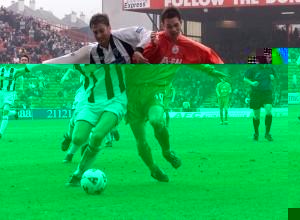 The Lithuanian defender played under both those Managers in his time with PSV Eindhoven between 1997 and 2000, he has helped the Pars so far to a top six slot and now a top-three slot in the SPL, Skerla rates this as big as his time with PSV.

Andrius Skerla still only 25,mentions this about his time with PSV and Calderwood.......

"Jimmy Calderwood is up there with the best I have worked with. He brings the best out of the players we have got, is always very helpful to me and other and makes the training interesting.

"It was Dick Advocaat who took me from FK Zalgiris Vilnius in Lithuania to PSV and he taught me a lot. Football in Lithuania is poor and a lot different from football in top countries, teams struggle for a ground, there are hardly any fans at games, lucky to get a 3,000 crowd at a big cup final game or league derby. It was hard to adjust too moving from Lithuania, then playing in a full ground in eindhoven was a whole new feeling for me, 20,000 to 30,000 fans was a huge difference for me playing in front of, but Dick was my first manager in Holland and I enjoyed my time working with him.

"But Dick left before the end of season 1997/98 for Rangers, so my next manager at PSV was Bobby Robson. He has been coach at clubs like Barcelona and Benfica and now doing well at Newcastle. He has been manager of England and, apart from being a great coach, is a very good person.

"All of these managers have been special for me and I`ve been fortunate.
Andrius Skerla`s international career continues with the Pars. Here we see him in the starting 11 as a right back in a recent international game.
"I am happy here,the football is good and When the team is playing well it`s a great feeling for me and the other players. It is good for my family also.

"This is the most enjoyable season I`ve had in Scotland and hopefully it will continue. It`s a real experience playing in the Scottish League against all these very good players and teams."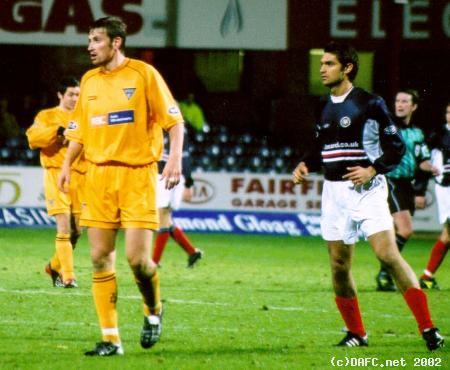 Another Sterling performance from the Lithuanian International defender, keeping Caballero and former wee team striker Nacho Novo at bay for most of the game.
"I have played in the UEFA cup in 1996 with Zalgiris Vilnius against sides like Aberdeen which ended in a 6-4 score line in two legs. Also a team in Ireland called Belfast Crusadors who we beat 4-2 also in two legs,and Hapoel Sheva who we lost 2-1 but still was a great experiance playing in other countries.

"But the champions league sticks out in my mind from PSV Eindhoven from 1998, I played 3 times, twice against Kaiserslautern from Germany which we lost on both 2-1 then 3-1. Then I play against Benfica from Portugal at Phillps Stadium in Eindhoven were we drew 2-2. But I`m hoping I can offer this experiance to Dunfermline if we can get a UEFA cup place. But also players like Stevie Crawford, Scott Wilson, Craig Brewster, who all play at this level before, they can also help the club if we make the position".

Here`s a picture of Skerla with his Lithuanian teammates.


Related Stories


views: 2,274