St Johnstone 0 v 0 Dunfermline Athletic
Author: Stephen Taylor Date: Saturday, 10th Nov 2007

The Pars put a halt to the bad run of defeats with a much more positive performance that actually deserved a better return than the 1 point earned from the 0-0 scoreline.
A fairly large Pars support trundled up to Perth wondering what they were going to witness, another nail in Stephen Kenny`s coffin or the early shoots of recovery. As it turned out it was perhaps the latter as the Pars put in a good energetic performance. The latest loan signing from Celtic, Michael McGlinchey, was on the bench alongside Stevie Crawford. Sean Murdoch started in goals with a back four of Woods, Bamba, Wilson and Murphy. The midfield, quartet was Ryan, Simmons, Glass and Muirhead. Burchill and McManus spearheaded the attack.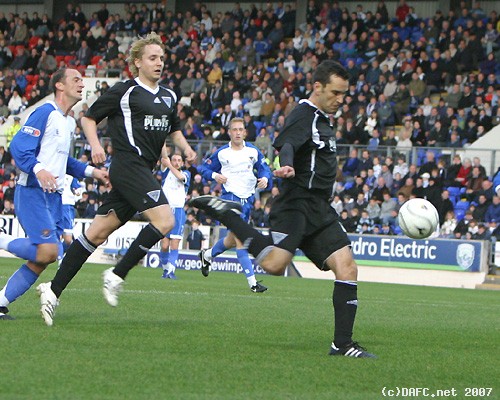 Glass shoots and scores, but Ref calls offside. Perhaps Glass should have left it for McManus who chested the ball down and was not offside. 10 Nov 2007
A quick start by the Pars saw them win a corner in the first minute after a good run by Ryan. The Saints first attack saw Murdoch flap at a ball in his 6 yard area that he should have held before Simmons cleared. There was an early sign of the over physical aspects to the home side as Simmons was taken out in 5 minutes. Glass hit the free kick at the wall.

Bamba still looks a little nervy and Wilson fouled Jackson in 7 minutes after Sol had missed a challenge himself. Quinn blasted the free kick well over. Bamba then gave away another free kick which seemed a little harsh. McManus put over a good cross from a swift passing move but Main took the cross unchallenged.
The Pars were looking quite dangerous when they broke forward with Muirhead leading the way. He hit over from another good move in 18 minutes. Murphy was always looking to get forward and he linked well with Muirhead in 20 minutes with McManus hitting the ball wide.

The home side won two quick corners in 22 minutes with Muirhead doing well to tip over a header from the first effort. Bamba made a superb sliding tackle giving away a corner in 24 minutes. Muirhead again broke away and another dangerous looking move saw the Pars score with Glass being disappointed to see the linesman`s flag up for offside.

Another Pars free kick saw McManus headwide. The momentum was with the Pars at this stage of the game. Burchill hit the bar with a header from a Glass corner in 31 minutes.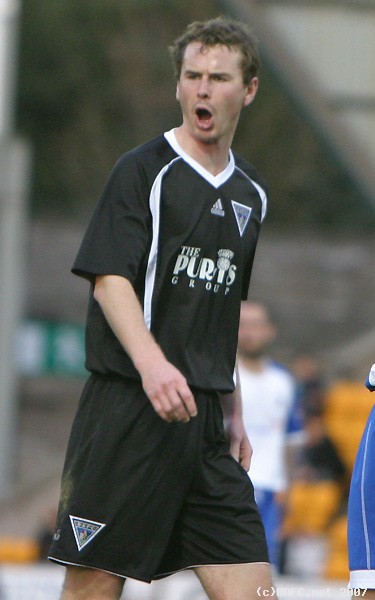 Stephen Simmons getting back to form. 10 Nov 2007
Then a horrendous challenge from behind saw McManus poleaxed and then having to be carried off on a stretcher. Stevie Crawford came on for Tam.

Stephen Glass slashed a ball wide when in a good shooting position in 42 minutes. The home side had the ball in the net but Deucher clearly pushed his way to the ball in 43 minutes. Ryan picked up a yellow card for a foul at half time. Half time 0-0.
Second half details later. I am off to a 40th birthday party tonight. Must go!......OK, back now 24 hours later, sorry for the delay!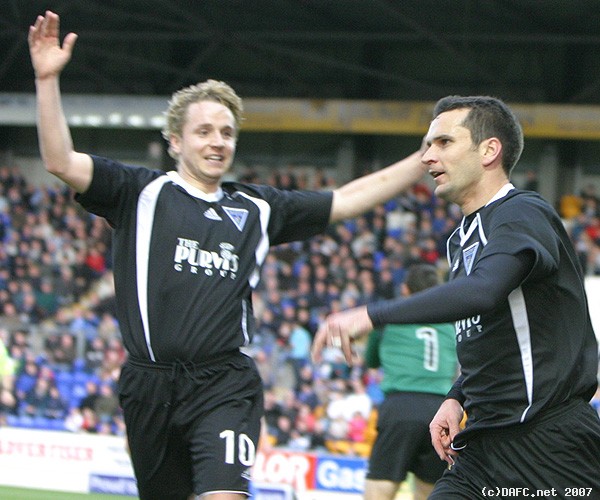 Glass and McManus celebrate Glass`s goal which was then called offside. 10 Nov 2007




Now playing towards their own support the Pars had a half chance with a Glass header saved by Main on his line in 47 minutes. Scott Wilson was in nose bleed territory with the ball at his feet on the edge of the Saints 18 yard area but the attack fizzled out as he looked to pass rather than shoot. The home side change things bringing on Weatherstone for McLaren in 52 minutes. In 55 minutes Ryan made room for a shot but it lacked power and was easily saved. There was a close thing in 58 minutes as Bamba appeared to impede a forward but the referee waved play on. A minute later the Saints had a shot blastd high over Murdoch`s bar.



views: 5,936