Stevie Crawford`s Scotland Career to Date
Author: Jason Barber Date: Thursday, 9th Oct 2003

Crawford has now become firmly established as a first pick striker under Bertie Vogts` management. With all but one of his 15 Scotland caps awarded during his time at DAFC, he is now Dunfermline`s most capped Scotsman in their history.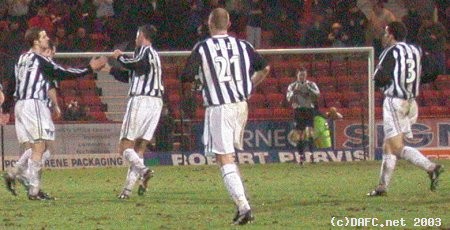 His first cap was handed over during the one off "Kirrin Cup" against Ecuador back in 1995. He had the misfortune to be playing for the Wee Team back then, but we`ll not hold that against him......

He replaced Darren Jackson on the hour mark and grabbed himself a goal on his international debut, nice way to start!

That sole appearance looked like it could have been the beginning and end of his Scotland career however. Moves to Millwall and then Hibs saw Crawford well out of the picture and his one cap looked like it was going to be a lone one.

His move to Dunfermline in 1999 saw an upturn in goals scored, and more importantly his overall game.

Six years after his first cap, Crawford (along with team mate Barry Nicholson) was called up to the Scotland squad for an end of season friendly over in Poland.

Replacing Billy Dodds at half time, Crawford made an immediate impact on the game. Involved in the move which saw Scotland win a penalty, he earned plaudits from those in the Scotland camp and the media for his second half performance.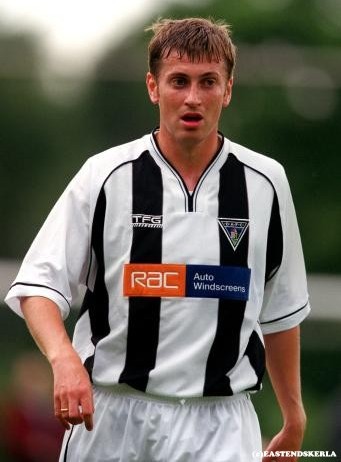 The opposition?
Once again though, a spell on the sidelines was to follow! It was to be almost a year before cap number three was awarded.

Bertie Vogts` first game was away to France and the 5-0 defeat saw a couple of Scotland careers end there and then. Crawford played from the start but was lucky to have the ball anywhere near his end of the park.

Six months later and his first competitive Scotland game saw him play a major part as a substitute once again. Cap number four came at a time when Scotland were losing 2-0 at half time to the Faroe Islands.......

Crawford was excellent as Scotland pulled back to 2-2 and perhaps for the first time, he would be regarded as a Scotland regular from that moment on.

Cap five saw him play the full 90 minutes away to Iceland and cap six followed just three days later.

At Easter Road, Stevie was inches away from becoming the first Scotland striker to score a hat trick in thirty years. Two goals against Canada saw Crawford form a very useful partnership with Stevie Thompson. As a sidenote, the last Dunfermline player to score for Scotland had been Andy Wilson back in 1921!!

Caps seven and eight were awarded during the poor friendlies against Portugal and Ireland, with little to cheer about for any Scotland fan in either game....

Cap nine came in the return qualifier against Iceland, with Kenny Miller now Stevie`s partner up front. No goals for Crawford in this game, but he did pick up his first yellow card of the campaign.......

Two more friendlies (against Austria and New Zealand) saw him again retain his place amongst fierce competition. His fourth international goal came against New Zealand and earned a 1-1 draw in a match that Scotland should have wrapped up within the first half.
The biggest game of his international career to date came against Germany back in June for his 12th cap. The 1-1 draw was a tremendous result for Scotland against the World Cup runners up. Crawford nearly managed to place himself on a world stage by chipping the ball over a defenders head before Oliver Kahn saved the day for the Germans.

A defensive performance against Norway saw him pick up cap 13, though he was not too involved as Scotland witheld wave after wave of Norwegian attacks!

His last cap to date saw him play most of the game in the 3-1 win over the Faroes. A second yellow card was picked up as he played on after being given offside, such was the desire to put the ball in the back of the net. A suspension followed, meaning he missed the away match in Germany.

Now he is back in the squad alongside Pars keeper Derek Stillie. Crawford stands an excellent chance of winning his 16th international cap, which would be a superb achievement and one that Dunfermline can be proud of.

The thought of having a Pars player in a Scotland shirt was unthinkable only a few years ago, so best wishes to Stevie (and Derek!) as they represent the club at the highest level this coming weekend.

Another bit of DAFC history could also be made this week, with Andrius Skerla recalled to the Lithuania squad. Two Pars up against each other in a vital international match? Don`t bet against it.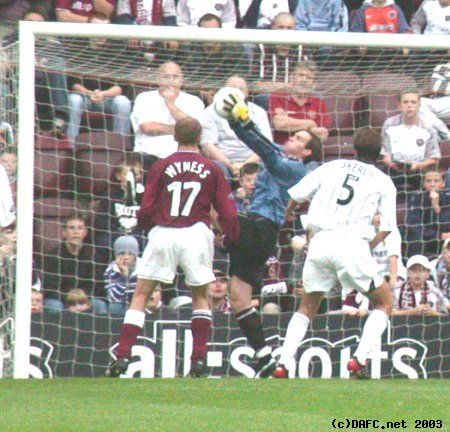 Club and country team mate Stillie




views: 2,423