To sit or to stand ??
Date: Saturday, 22nd Oct 2005

Pars fans got ejected today at Tynecastle for standing, BUT WHY OH WHY was it only in the away end ??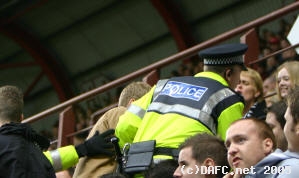 Rock Steady and the Police were busy ejecting Dunfermline fans from Tynecastle today for standing.

Despite protests that no action was being taken to the Hearts fans clearly standing also, Rock Steady and the Police jumped into the away stand with heavy hands.

We would like to ask the question WHY ? Rock Steady were cleary taking no action against Hearts fans, so its about time something was done about this. I will contact Dunfermline Athletic and Hearts regarding this issue as this was trully out of order.

I wonder what action can be taken against Hearts and/or Rock Steady ?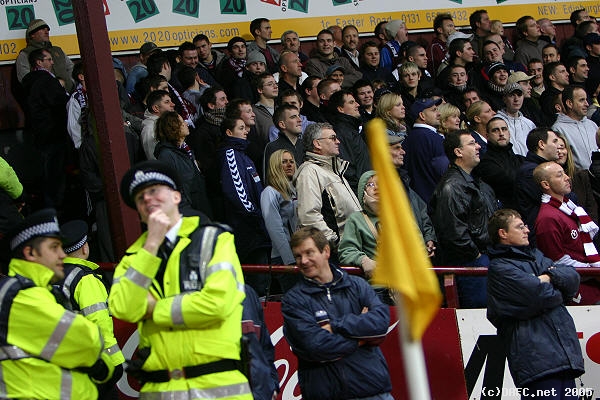 Police clearly not interested in 200 Hearts fans standing, but one or two Pars fans appear more of a threat and get evicted. The Police and Rock Steady have some explaining to do.
I asked a Rock Steady supervisor why people were being evicted, and was told that they were smoking, being bad and also standing up. I said that in the Hearts stand people were standing but he stated that it was a different supervisor and it was out of his control.

If you were evicted today please email me and tell me what excuse they gave you, and I`ll take it up further. (brian@dafc.net)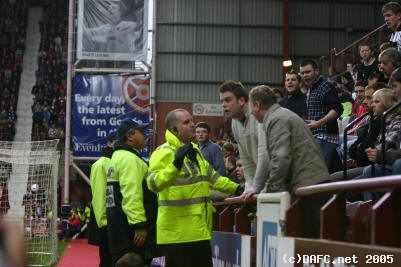 Pars fans getting told off that they must sit down. Rock Steady are politely told that there is no action being taken against Hearts fans and being asked why ? Rock Steady don`t have an answer. 22nd Oct 2005




views: 4,415