Dunfermline 1-1 Clyde
Date: Saturday, 8th Dec 2007

An opportunity for Dunfermline to start off on a winning way was lost due to a bad mistake in 3 minutes. Despite Burchill pulling one back in 10 minutes the Pars yet again could not score despite numerous chances.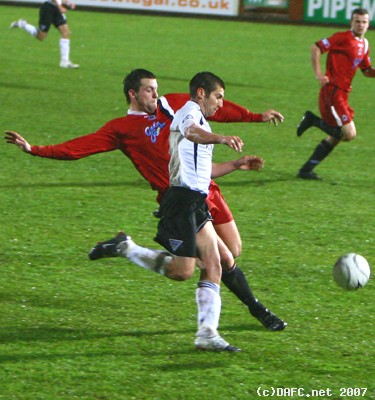 Would the players be up for it now that Stephen Kenny has gone ? Jim McIntyre was given the task temporarily to see if he could motivate the players any better, did it work ?

Nipper was back in the starting eleven, Wilson back in and Harris drops to the bench. Young and Bamba out after injury last week, and Scott Morrison also comes back in. McGlinchey is also missing. McManus makes the bench, as does temporary coach McIntyre.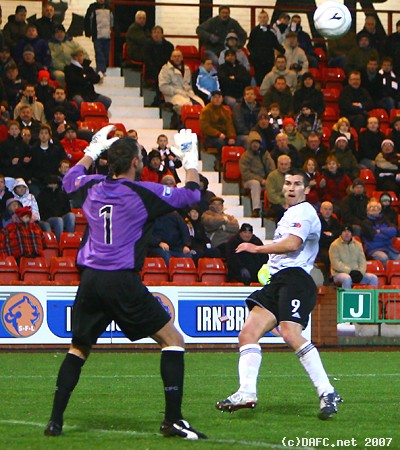 Mark Burchill Lobs Keeper
In 3 minutes Scott Wilson played a safe passback to Gallacher who was currently coming out to pick up the ball and had to rush back to collect, but his clearance went straight to McGOWAN who took his opportuinity. Clyde could not believe their luck.

Pars do continue to push forward to attempt to pull one back and in 10 minutes the pressure pays off. Pars get a free kick outside the Clyde box which is cleared for a corner.

Hammilton gets it onto BURCHILL who heads it in at close range. 13 goals conceded since the last Pars goal away to Queen of the South on the 6th October, and the first goal at home since 29th September.

Pars again continue to push forward and in 22 minutes, Burchill again gets a shot at goal, but his lob of the keeper hits the post.

Scott Wilson was fairly fortunate in the 28th minute as he brought down Imrie, and on other occassions it might have been a penalty, and perhaps a red card.

in 32 minutes Burchill was brought down on the edge of the Clyde box and Glass`s free kick hit the crossbar.

Nipper shows a bit of pace as he goes past one on the left of midfield. Pars were at least trying to win the game and came close on a couple of occassions, however, Clyde were also still dangerous on the break.

Half Time Dunfermline 1-1 Clyde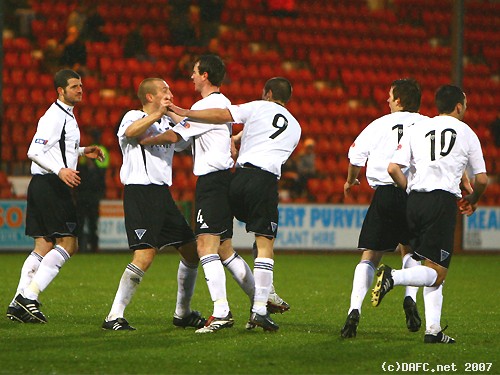 Players Celebrate
Both sides start brightly at the start of the second half, both teams looking for the next goal which might win the game.

Simmons overstretches himself in 50 minutes and had to leave the field for a few minutes, it was a suprise that he came back on as it looked a sore hamstring injury.

On 58 minutes Imrie was beaten by Morrisson and he didn`t take kindly to being beaten. O`Reilly was indiffeent at times today but on this occassion decided to punish the Clyde player and gave him an early bath.

This left Dunfermline playing a 10 man Clyde and would it make any difference to the result ?

Related Stories


views: 2,501