Dunfermline Athletic 0
Inverness CT 0
Author: Jason Barber Date: Saturday, 23rd Dec 2006

With Dunfermline having failed to beat Inverness Caledonian Thistle in the top flight, an unwanted record was there to be broken this afternoon as The Highlanders made the journey south to East End Park on a cold, dry Fife afternoon.
Having drawn 0-0 away to St. Mirren last week, Stephen Kenny made one surprise change to his line up as Dunfermline aimed for that elusive win which would eat into the five point gap at the bottom of the SPL table.

Dorus De Vries continued in goals, whilst the defence remained as Darren Young, Phil McGuire, Scott Wilson and Greg Shields.

The pre match surprise was seeing the name of Sol Bamba line up as a central midfielder, the big centre half now being back from his two match suspension. With Young at left back, and Bamba being announced in the middle of the park, it is clear to see that Stephen Kenny is making his mark and is certainly not averse to taking what some people may see as risks.

Greg Ross, Gary Mason and Scott Muirhead completed the midfield, whilst Jim Hamilton came in for Mark Burchill and started alongside Stevie Crawford.
Gary Mason v Barry Wilson.
Inverness kicked the match off shooting towards the Norrie McCathie stand, but the Cowdenbeath end saw all of the early action in the match. Empty bar the huge Pars shirt which was unfurled before kick off and two ball boys, Dunfermline had two clear cut chances to open the scoring in front of the usual away end.

Darren Dods, who returned as ICT captain after suspension last week, committed what appeared to be a clear foul on Jim Hamilton but the referee deemed it to be no foul. For the record, the gentleman appointed by the SPL to referee this afternoons match goes by the name of Mr. Willie Collum. If he ever referees another match at East End Park again, it will be too soon.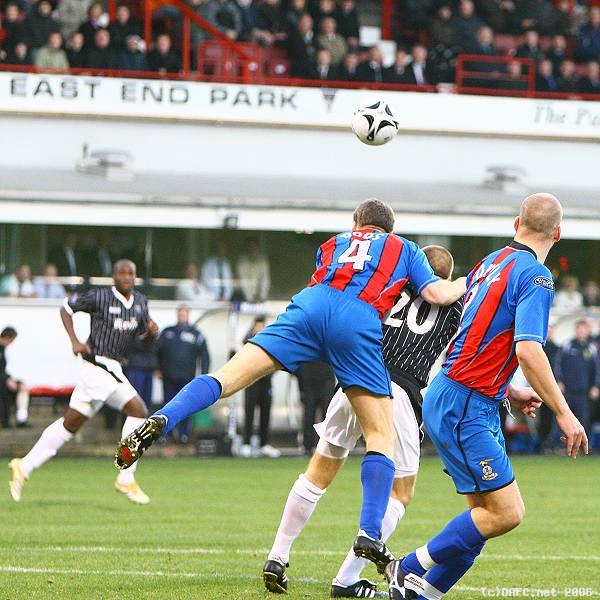 Jim Hamilton is bundled over by Darren Dods,
but is it a penalty?
Enough of him for now, though it was difficult to ignore him as the game ended up revolving around his decisions, or lack thereof, for the best part of the 90 minutes that followed.

Both Stevie Crawford, then Gary Mason, had excellent chances to score as they found themselves one on one with the ICT keeper Mark Brown. Crawford`s effort was saved, though it could have been hit more cleanly, and Gary Mason`s shot looked netbound until an excellent sliding clearance came from nowhere to put the ball out for a corner.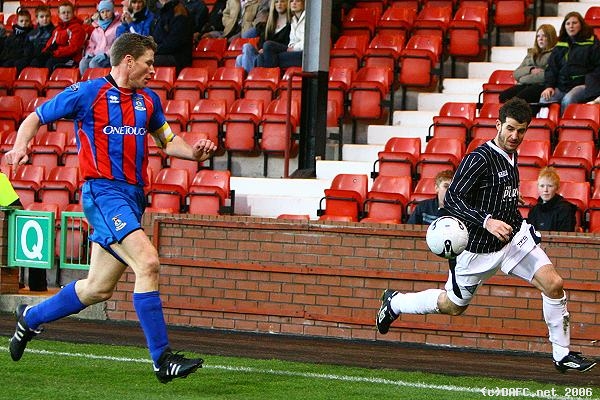 Stevie Crawford.
De Vries was certainly the quietest of the two keepers, though to be fair Mark Brown was hardly busy after his early involvement in the match. As the first half wore on, chances were not being carved out by either side. Sol Bamba was involved in many of the tussles being carried out in the first half, his added physical presence was certainly a plus point considering Dunfermline`s normal lack of the same for what seems like an eternity.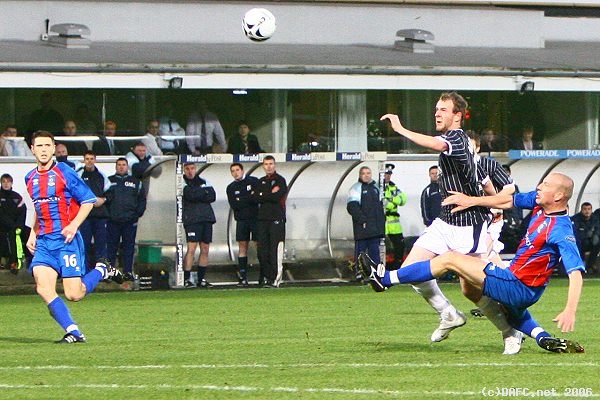 Penalty claim no.2. (1of2)
The first half slowly ground out to a 0-0 scoreline at the break and money giveaways during the interval provided more entertainment than had been seen since that early offensive play by The Pars. 1965 cup final captain Jim MacLean drew the 50/50 half time draw, whilst Richard Emslie from South Africe won the £3,000 Sammy`s Golden Squares draw!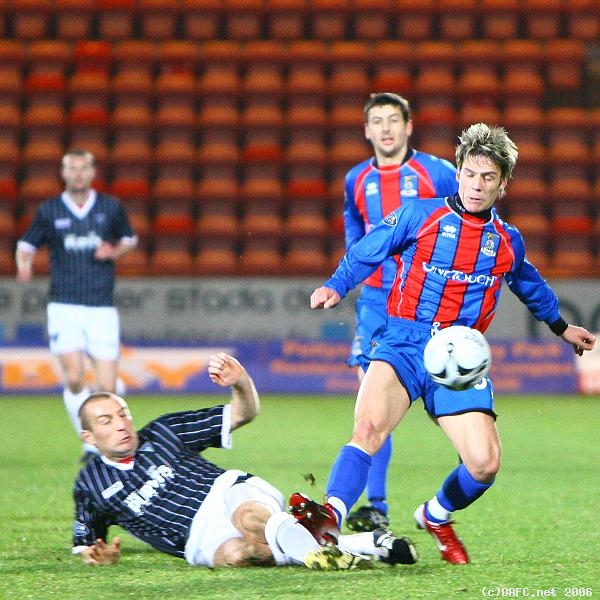 Jim Hamilton v Ian Black.
The second half was started by Dunfermline shooting towards their favoured second half goal, and within a few minutes both teams gave a glimpse of what the second half will be remembered for. Barry Wilson, who evidently is exempt from being booked for continued verbal abuse towards the main stand linesman, was finally booked after he appeared to stamp on Darren Young who was grounded at the time. Scott Muirhead jumped in to defend his team mate and pushed Wilson away, though the Pars man escaped a booking which is quite remarkable given the circumstances of the afternoon.
Related Stories


views: 6,424